CEC flags off mobile veterinary units to different blocks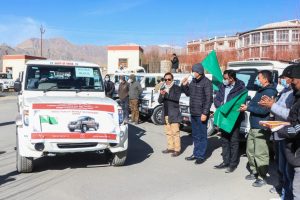 Leh, Dec 22: Seven Veterinary Field vehicles were allotted to different blocks of the district, in a flag-off ceremony by the Chairman/ CEC, LAHDC Leh, Adv.TashiGyalson in presence of EC Tashi Yakzee. The vehicles were purchased under the District Capex Budget of the Sheep Husbandry Department, Leh.
CEC Leh shared that this initiative would extend the reach of veterinary health care services and simultaneously improves the response time in remote areas of the district.
Councillor Chuchot, Councillor Nyoma, CEO/DC, Leh, ADC Leh, DSHO Leh, Deputy Director, Sheep husbandry Upshi.