CEC Feroz Khan reviews preparedness of AN-32 courier service, IL 76 to Kargil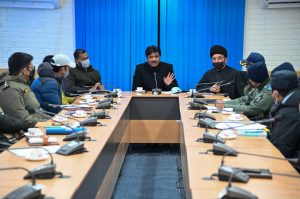 KARGIL, DECEMBER 22, 2021: Chairman and Chief Executive Councilors LAHDC Kargil Feroz Ahmad Khan today chaired a meeting at Council Secretariat to discuss arrangements of AN 32 courier service and IL 76 for evacuation of passengers and patients across Kargil, Srinagar and Jammu.
Executive Councilor Social Welfare Aga Syed Hassan Arman Mosavi, Executive Councilor Tourism Er Phunsok Tashi, Executive Councilor Health Mohsin Ali, Deputy Commissioner and CEO LAHDC Kargil Santosh Sukhadeve, Senior Superintendent of Police (SSP) Kargil Anayat Ali Chowdhury, besides concerned officers of Indian Airforce, District Officers, Liaison and Assistant Liaison officers and other concerned officers were present during the meeting.
During the meeting, threadbare discussions and deliberations were held with officials on the successful and smooth execution of AN-32 courier service.
CEC Khan appreciated the efforts of all concerned authorities for smooth functioning of the services during the last year and hoped that efforts will be made this year also to make it successful. He wished that all arrangements will be in place to facilitate passengers.
The CEC said that as desired by the UT Administration, ticketing and payment for courier service have been made online, while for IL-76 both online and offline services can be availed.
He asserted that apart from it, the district administration should take all measures for successful conduct of the air services.
The meeting was informed that Liaison and Assistant Liaison Officers for Srinagar, Jammu and Kargil have already been identified and necessary training regarding the execution of the services has been imparted to them.
CEC Khan directed the concerned officers to check the fares in case of possible inflation of taxes at Srinagar and Jammu airports.
While highlighting the importance of various facilities provided at Kargil Airport, CEC said that cleaning and maintenance of airport premises should be ensured by the concerned agency and for IL services, measures should be taken for transportation services.
CEC Khan also directed to avail heating facilities, water supply and hassle-free electricity at the airport and directed Sheep Husbandry and Cooperatives departments to provide vehicles.
In the meeting it was informed that for proper adherence of Covid protocols, a sampling team along with an ambulance will be stationed at the airport on every flight days.
The CEC also took assessment of helicopter services and directed to make a schedule for the passengers and patients wishing to travel to Srinagar and Jammu.