CEC Feroz Khan reviews preparations for mega knee replacement camp in Kargil from 24th to 28th August, 2021 Stresses to ensure smooth conduct of the camp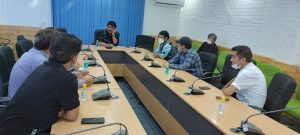 KARGIL, AUGUST 16, 2021: In order to review the preparations being put in place for the conduct of mega knee replacement camp to be held in the district from 24th to 28th August, 2021 Chairman and Chief Executive Councilor, LAHDC, Kargil Feroz Ahmad Khan convened a meeting of the concerned officers at Council Secretariat Kurbathang here today.
The knee replacement camp shall be jointly conducted by the Baqariya Health Care and Research Center (BHC&RC) Kargil and the Health Department Kargil.
The meeting was attended among others by the Chief Medical Officer Kargil Dr Munawar Hussain Wazir, Medical Superintendent District Hospital Kargil Dr Liyaqat Ali Khan, President Baqirya Healthcare & Research Center (BHC&RC) Kargil Dr Vilayat Ali, RMO Kargil Dr Shabir Hussain, Ortho Surgeon Dr Ahmad Ali besides other concerned officers and members of the BHC&RC Kargil.
During the course of the meeting, it was informed that the 5 day mega camp for knee replacement for pre-registered patients shall be conducted in Kargil from 24th to 28th August, 2021.
While inquiring from the officers about the necessary preparations made so far, the CEC instructed the officers of Health Department to ensure that all required arrangements are made timely besides all out support is extended in order to make the camp successful.
CEC Khan also appreciated the BHC&RC Kargil for their active role and participation for conduct of the camp and also for ensuring the services of renowned Ortho Specialist/Div. Director, Hip and Knee Division, Medanta Medicity Delhi Dr Attique Vasudev.