CEC Feroz Khan reviews pace of progress on Barchay-Batalik transmission line Directs to charge up line by July 19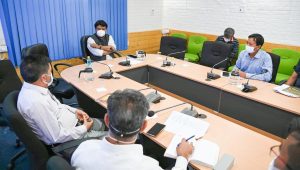 KARGIL, JULY 17, 2021: Chairman and Chief Executive Councilor, LAHDC, Kargil Feroz Ahmad Khan today convened a meeting of the concerned officers to review the pace of progress achieved on the laying of 11 KV capacity Barchay-Batalik transmission line.
Taking serious note of the slow pace of progress on the transmission line , the CEC said that even after assigning multiple deadlines for completion, the project has not yet been completed, and the public of the concerned villages have expressed strong resentment regarding the matter.
CEC Feroz Khan further said that he had personally visited the area two times during the last month and the progress was not satisfactory. He directed the concerned officers to charge up the transmission line well before Eid ul Adha, and said that no further delays will be acceptable.
The officers concerned assured the CEC that immediate steps will be taken including the replacement of conductors, and the line will be charged up at the earliest possible.
The meeting was informed that the replacement of conductors will be done during the day time and line charge up at night, adding that the transmission line will be charged up by 19th July while on 20th July public announcements will also be done in this regard.
Meanwhile, CEC Khan directed the concerned officers to engage engineers to check the loose ends on the transmission line to avoid any calamity, and added that public announcements should be made through media cautioning people to abstain from coming under the radius of the electricity line, while the charge up and repairing of the transmission line is done.
The CEC also inquired about the status of the Drass Zanskar and Drass Parkachik transmission lines during the meeting.
Superintending Engineer, PDD Ladakh, Deputy General Manager, Power Grid Kargil, Executive Engineer, Project Division Ladakh, Executive Engineer, Distribution Division Kargil, Executive Engineer STD, Manager TATA Power Project and other concerned officers were present during the meeting.