CEC Feroz Khan reviews developmental works of Shargole Constituency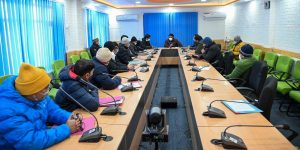 KARGIL JANUARY 24, 2021: Chairman and Chief Executive Councillor (CEC) LAHDC, Kargil, Feroz Ahmed Khan today chaired a meeting of officers at LAHDC Secretariat and reviewed various ongoing developmental works of different departments in Shargole Constituency.
Former Executive Councilor and Councilor Shargole Constituency, Muhammad Ali Chandan, District Superintending Engineering PWD Circle, Tashi Tundup, Chief Medical Officer, Kargil, Munawar Hussain Wazir, Cheif Education Officer, Nazir Ahmed Wani, Executive Engineers of R&B second Division, PHE, I&FC, PMGSY, PDD, Tehsildar Shargole, representative of RDD besides other concerned officers attended the meeting.
During the meeting, CEC Khan took a detailed assessment of various works undergoing in Shargole Constituency in different sectors like R&B, PHE, I&FC, PDD, Education, PMGSY, Health, Rural Development Department, KDA and other sectors.
While taking a review of works undergoing in R&B sector, the CEC was informed that under District Plan, Capex, Languishing and SDP sectors, various works are undergoing in the Constituency including the construction of link roads, ice hockey rinks, bridges, sports stadium, sub-division office and other works.
Related to works undertaken by the PHE Department in Shargole, a discussion on different works under the sector was held.
While taking the assessment of works under Jal Jeevan Mission (JJM), CEC Khan was informed that in different villages of the constituency, efforts are on for proper execution of works.
The CEC said that more efforts need to be taken for the completion of works under JJM considering its flexibility in operations and funding.
He added that source-based water accessibility is not feasible at all places therefore more focus should be on procurement of groundwater.
The concerned officer informed the CEC that 2200-2400 hand pumps in Kargil need maintenance and there is a need of water pipes in buffer stock to deal with extraordinary situations for which required funds need to be allocated.
CEC Khan assured that separate head for the mentioned works will be allocated funds after submission of proposals for the said works.
Related to works undergoing in Irrigation and Flood Control Department, the CEC was informed that, at present nine works are undergoing including five under district plan and four under SDP including water conservation structures, flood protection bunds etc.
In the meeting, the CEC took a detailed assessment of works undergoing in the Constituency under PDD, PMGSY, Education, Rural Development, Health, KDA and other sectors.
While expressing satisfaction over the works undergoing in the constituency, the CEC directed to stress on maximum expenditure.
Regarding JJM works, CEC Khan stressed to show extraordinary commitment and results adding that proper completion of the projects should be ensured. He also asked the concerned officers to publicize the success stories of the JJM.
He congratulated district officers and field officers for achieving more than 65 percent expenditure under Capex in Kargil till date and expects to achieve more than 80 percent by end of financial year.
Khan also expressed satisfaction over the 70 percent expenditure under the Councilor Constituency Development Fund (CCDF) amid various technical complexities.
Later, Councilor Shargole Constituency, Muhammad Ali Chandan thanked CEC Khan for conducting the meeting and expressed satisfaction over the execution of works under different sectors.
He also appreciated the district officers and field officers for the timely execution of different works in the Shargole Constituency.