CEC Feroz Khan reviews development activities of Silmo constituency Directs to achieve maximum physical, financial achievement before March 2022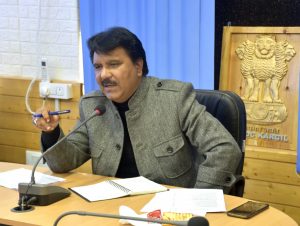 KARGIL, MARCH 07, 2022: Chairman and Chief Executive Councilor (CEC) LAHDC Kargil, Feroz Ahmad Khan today chaired a review meeting to take an assessment of physical and financial achievement of various works undertaken in Silmo constituency for the financial year 2021 under CAPEX, SDP and Untied grants.
The meeting was attended by Assistant Commissioner Development (ACD) Kargil, Ghulam Muhammad, Chief Education Officer, Chief Agriculture Officer, Chief Horticulture Officer, Chief Medical Officer, District Soil and Conservation Officers, Executive Engineers of R&B 2nd, PHE, I&FC, PDD, REW besides concerned officers also attended the meeting.
During the meeting, CEC Khan took an assessment of development works undergoing in the concerned sectors of various departments.
While taking the assessment of development works under R&B division within the constituency, the CEC was informed that under Capex, various developmental works have been undertaken by the department including the construction of link roads at various villages, such as Dangal, Darchiks, Yukmathang, Yaldor and other villages. Besides, infrastructure works of schools, indoor stadiums and Ice Hockey rinks.
CEC Khan was apprised that under SDP, construction of roads, bridges and hospital are also undergoing.
While taking the assessment of development works under PHE and JJM, Khan was informed that a major irrigation work at Silmo village is undergoing at a cost of Rs 19 lakhs.
Apart from it in JJM, proposals have been submitted for operations at various villages, including Lalung, Grong, Lakha, Gargardu, Yaldour, Sharche, Chulichan and other villages.
The CEC was informed that fieldwork has been completed and directed the concerned department to speed up the works under JJM and also asserted on PRI members to extend their cooperation and support in the execution of works in the future.
While taking assessment of works under Rural Development Department, CEC Khan was informed that various works are undergoing in the Constituency including the construction of CFC, footpaths, mini stadium, fish pond, library, labour Sarai, community sanitary complexes, sports ground and other works.
Regarding the works undertaken by the Agriculture Department, he was informed that various welfare initiatives for farmers are undergoing in the Constituency including distribution of UV films, Ladakh Green Houses and Vermicompost.
Further, the CEC was also informed about the different works undergoing in the Horticulture Department.
He also took at length assessment of various works undertaken by Command Area Development, Soil Conservation, Education, PDD, Social Welfare and other departments.
Regarding the Education Department, CEC Khan directed Village Education Committees in the implementation of major and minor works.
While taking the assessment of pensioner beneficiaries under the Social Welfare Department, the CEC was informed that 100 percent of cases have been resolved.
Regarding PDD works, Khan directed to increase the capacity of transformers in Silmo Grong and Chulichan. He also directed the concerned officers to achieve maximum expenditure before March-end.