CEC Feroz Khan led team arrives Pune on 3-day visit to promote Kargil as tourist destination Stresses on need for realizing potential of Kargil as a high-altitude location LAHDC Kargil to organize Kargil International Marathon 2022 as a grand event in Sep 2022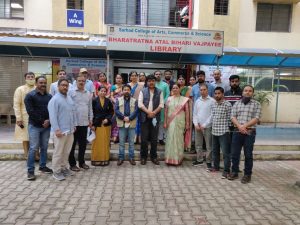 KARGIL, DECEMBER 29, 2021: Chairman Ladakh Autonomous Hill Development Council (LAHDC) Kargil Feroz Ahmed Khan arrived in Pune on a three-day visit to promote Kargil as tourist destination.
Khan is leading a team comprising of Executive Councilor (Works), Syed Abass Razvi, Vice President MC Kargil, Gulzar Hussain, Chief Planning Officer Kargil, Abdul Hadi, President AKTTA Muhammad Ali, Executive Magistrate, Muhammad Hassan, General Secretary Kargil Olympics Association Syed Mehraj-ud-din Shah, and Founder Roots Ladakh Muzammil Hussain.
On their arrival, the team was welcomed with traditional Marathi scarves and bouquets at the Deccan Gymkhana Pune by Founder Sarhad Organization Sanjay Nahar, President Swanand Foundation Sanjeev Shah, President Arham Foundation Sailaish Pagariya, President Sikh Janseva Sangh Pune Sant Singh Mokha and Secretary Mahavir Jain Viidyala and Producer Swatantra Theater Yuvraj Shah.
On the first day, of the visit, the CEC Khan and team visited the National Film Archives of India situated at Pune and interacted with the Director NFAI Prakash Magdum.
Later in another event, the team interacted with the media fraternity of Pune at the Press Club of Pune. A large number of media persons took part in the event.
Speaking on the occasion, CEC Khan pitched for stringer relations between the two cities especially in the sectors of education, tourism and skill enhancement.
He stressed on the need for realizing the potential of Kargil as a high-altitude location for physical training, especially for athletics.
In this regard, the CEC said that the Kargil International Marathon organized by Sarhad Pune in Kargil can play a pivotal role in drawing athletes from all over India to Kargil.
He assured that the LAHDC Kargil shall make all efforts to organize the Kargil International Marathon 2022 as a grand event in September 2022.
He invited all athletes, through the medium of the Press Club of Pune, to Kargil in September 2020. He hoped that the pandemic situation would subside by summer 2022.
During the occasion, President Pune Shramik Patrakar Sangh Mangesh Kolapkar welcomed the team to Pune and assured that the local media will play its role in strengthening the bonds between the two cities.
CEC Khan and the team later made visited the campus of Sarhad College of Arts, Commerce and Science and Sarhad School Pune where they were informed that over 6000 students were on roll in the two institutes being run under the aegis of the organization.
They were also informed that over 40 students from Kargil district are also undergoing their higher and school education in these institutions.
Similarly, in a late evening event, the team interacted with travel and tour operators' fraternity of Pune wherein President Travel Agents Association Pune Dr. Viwshwas Kelkar welcomed the team at the Mahavir Jain Vidyala Premises.
During the event, Founder Roots Ladakh Muzammil Hussain gave a detailed presentation about the scope of Tourism in Kargil.
Speaking at the event President AKTTA said that Kargil is gradually making its mark on the tourist map of India.
Responding to questions from the travel and tour operators of Pune, CEC Khan said that about 40 percent of all tourists arriving to Kargil hail from western states of India including Gujarat and Maharashtra.
He urged the travel and tour operators of Pune to help LAHDC Kargil realize the true potential of Kargil for sustainable and eco-friendly tourism industry.
A detailed question and answer session followed the discussions wherein members of the Travel Agents Association Pune enquired about various practical and operational issues faced by tourists during their travel to the Ladakh region.
The team assured that all steps are being taken in due consultation with the governments of UT Ladakh as well as the UT J&K to enable hassle-free access to all tourist destinations in Ladakh. A very interesting play was also staged at the venue prior to dinner by artists of the Swatantra Theatre, Pune.