CEC Feroz Khan launches regional quiz competition under Azadi Ka Amrit Mahotsav by RNU Kargil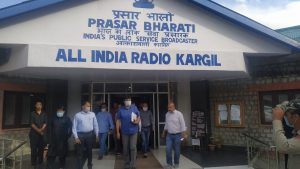 KARGIL, AUGUST 13, 2021: As a part of the nationwide celebrations of Azadi Ka Amrit Mahotsav, Chairman and Chief Executive Councillor, LAHDC, Kargil Feroz Ahmad Khan launched a weekly quiz competition for the public by Regional News Unit (RNU), All India Radio Kargil here today.
Executive Councillor for Works and Information Aga Syed Abass Razvi, Deputy Commissioner and CEO, LAHDC, Kargil Santosh Sukhadeve, Head of Office AIR Kargil Chandrika Prasad besides the officers and officials of RNU, AIR Kargil were present on the occasion.
The CEC recorded the first question of the quiz program in his original voice on the occasion.
During the year-long weekly quiz programme, one question covering history, culture, literature and other important aspects of Kargil region will be asked during the 7:25 PM news bulletin every Friday. The answer should reach through email at air.kargil@gmail.com till 10 AM by the following Sunday.
The first correct answer received via email will be declared as winner and winners will be awarded with a prize by LAHDC, Kargil at the end of every month at the LAHDC Secretariat.
Speaking on the occasion CEC Feroz Ahmad Khan said that Akashvani Kargil has played a pivotal role in serving the nation in terms of providing right information to the people of the region particularly during the 1999 Kargil War and other natural calamities.He also said that Akashvani Kargil cares for people of the region by providing programmes in their local languages Purgi, Balti, Sheena and other dialects.
Khan said that Akashvani Kargil is also playing a major role in preserving and promoting culture, language, literature, traditions of Kargil and also cares for the linguistic and religious aspirations by producing programmes as per the taste of local audience, adding he stated that it also disseminates awareness of government schemes and emergent messages and news of natural calamities to the people of the region to safeguard their life and property.