CEC Feroz Khan launches codling moth management program at Karkitchoo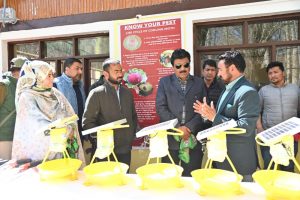 KARGIL, APRIL 04, 2022: Chairman and Chief Executive Councillor (CEC), LAHDC Kargil, Feroz Ahmad Khan today launched the codling moth management program at Karkitchoo village.
Executive Councillor for Horticulture, Aga Syed Hassan Arman, Deputy Commissioner and CEO, LAHDC Kargil, Santosh Sukhadeve, Councillor town, Haji Muhammad Abass, Chief Horticulture Officer, Ali Raza, Chief Agriculture Officer, Kacho Muhammad Ali Khan, doctors, BDC Chairperson, PRI members and senior citizens of the village were present on the occasion.
As part of the program, the department launched various preventive measures and equipment for codling moth-like light trap, manual light trap, solar light traps, pheromone traps, scrappers etc. The equipment will be provided to farmers across Kargil district soon.
Addressing the gathering, CEC Khan said that since the formation of UT, sincere efforts have been made to treat codling moth. He said horticulture produces have got new avenues for export and that was reflected in the Prime Minister's mention of the produces in Man ki Baat.
He further urged the public to cooperate with the department to fight codling moth. The next significant step is the processing of the produces in Jam and Juice to change them into smart income for youth.
EC Aga Syed Hassan Arman instructed public to cooperate with the Department and administration to fight the codling moth which is a key resistance in development of Apple and apricot.
Speaking on the occasion, DC Santosh said that as per the One District One Product plan, the administration is aiming to increase apricot production and its export to other cities and countries from 20 quintals last year to 200 quintals this year.
The CEC and DC further assured to do the needful to ensure safe drinking water supply, development of road and supply of irrigation water.
Across the Ladakh region, Karkitchoo village is known for its high-quality Apples and apricots.
Codling moth has posed a challenge to fruit production in the district which was a reason behind the ban on the supply of Ladakh fruits outside the region.
After the formation of UT, the administration and LAHDC both were instrumental in treating the codling moth and allowed fruits to supply in other cities and also export in other countries.