CEC Feroz Khan launches 2 month long Tuberculosis ACF, DBT campaigns under Azadi Ka Amrit Mahotsav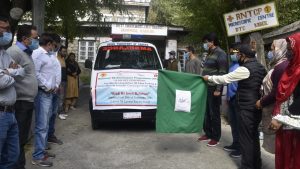 KARGIL, SEPTEMBER 20, 2021: Chairman and Chief Executive Councillor, LAHDC, Kargil Feroz Ahmad Khan flagged off 2 Month Long Tuberculosis Active Case Finding (ACF) and Direct Benefit Transfer (DBT) campaigns under Azadi Ka Amrit Mahotsav at TB Center Kargil here today.
Executive Councillor for Health Mohsin Ali, Chief Medical Officer Kargil Dr Munawar Hussain Wazir, Medical Superintendent District Hospital Kargil Dr Liyaqat Ali Khan, District Tuberculosis Officer Dr Fatima Banoo, Block Medical Officers, other officers of Health Department Kargil besides the paramedical staff of District TB Center Kargil were also present on the occasion.
During the course of the ACF Survey and DBT Campaign, the health workers from the Health Department Kargil will reach out to the hard to reach areas in Tai Suru, Drass and Kargil blocks of the district where they will cover a population of more than 7000.
The concerned officers of Health Department informed the CEC Kargil that thorough mapping of the vulnerable and difficult to reach groups will be meticulously planned and implemented as part of the ACF Campaign during which vulnerable population groups will be pre-mapped and house to house screening for TB will be carried out. Identified presumptive cases will then be tested for active TB disease and if diagnosed with the disease will be put on treatment.
As regards to the DBT Campaign, the CEC was informed that there would be provision of direct benefit transfer incentives to the TB patients, and tracking of patients would be done to enable them the direct benefit incentives so as to extend them the necessary financial support toward their quintessential nutrition needs.
CEC Feroz Khan stressed the officers of Health Department Kargil and the health workers to ensure effective implementation of the ACF Survey and DBT Campaign for benefit of the TB patients, adding he also underlined the need for effective awareness among the masses in this regard. He said that community participation is an essential component to achieve the targets.
EC Health Mohsin Ali while speaking on the occasion said that the data should be updated regularly and shared with the concerned stakeholders at the ground level. He further stressed on effective implementation of the factors related to fighting against Tuberculosis including prevention, screening and treatment.
Meanwhile, CEC Feroz Khan appealed the general public to extend proactive cooperation to the medical team during the campaigns so that we can eliminate TB like other parts of the country by 2025 under the National Tuberculosis Elimination Programme (NTEP).