CEC Feroz Khan inspects works of Agriculture Department Visits farms, green houses at Pashkum, SRF Kurbathang Plateau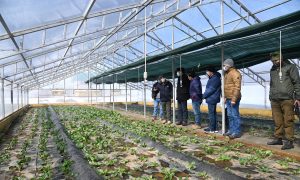 KARGIL, FEBRUARY 01, 2022: Chairman and Chief Executive Councillor (CEC), LAHDC, Kargil, Feroz Ahmed Khan along with Executive Councillor for Agriculture Mohsin Ali today inspected various works undertaken by Agriculture Department Kargil.
At Pashkum, Khan visited the Green House Farm of the department. He was informed that for necessary renovation of the Green Houses, a tender of Rs 18 lakhs has been allotted and work on the same will be started soon.
CEC was further informed that the green house farm is used for generation of vegetable seedlings and in spring these are distributed to farmers.
Khan also visited various Ladakh Green House units at Chulasse and Brokh Khar Mohalla of Pashkum and TV station. He also interacted with Multipurpose Organic Farmer, Shabir Hussain and appreciated him for his endeavours in dairy and organic farming.
Khan assured him that under CEC'c Councilor subsidy component, Polycarbonate sheets for the greenhouse will be provided to him. CEC advised him to get in touch with the Cooperatives Department for procurement of diary van.
Later, CEC visited Seed Multiplication Farm (SRF) Kurbathang Plateau where he inspected the functioning of high-tech GreenHouses.
CEC was informed that Cauliflower, Spinach and other varieties of vegetables are sown in the green houses. He was further informed that if the seeds are sown in September, two crops can be cultivated from the farms by spring season.
Khan said that deserving beneficiaries should get maximum benefits of the various schemes of the Agriculture Department and the department should bring innovative ideas so that Kargil becomes self-sufficient in the agriculture sector.
He further asserted that organic farming should be promoted among farmers so that they take benefits and improve their livelihood.
Officer Incharge/Headquarter Assistant Agriculture Department, Muhammad Hussain Khan, District Agriculture Extension Officer, Muhammad Iqbal, Sub-Divisional Agriculture Officer, Muhammad Hussain, Subject Matter Specialist, Razia Banoo besides concerned officers of Agriculture Department accompanied CEC during the tour.