CEC Feroz Khan inspects JJM works at Tingdo village, visits PHC Shargole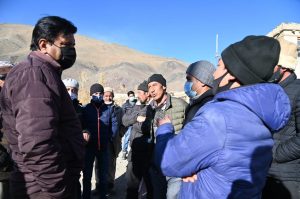 KARGIL, DECEMBER 23, 2021: Chairman and Chief Executive Councilor, LAHDC, Kargil Feroz Ahmad Khan today visited Tingdo village to review the progress of physical works under Jal Jeevan Mission (JJM).
The CEC was accompanied by Councilor Shargole Constituency Mohammad Ali Chandan and officials of PHE Department.
At Tingdo, the CEC took stock of physical work progress on JJM works. The PRI members of the village appraised him about JJM projects.
While interacting with villagers, the CEC informed that the purpose of the JJM scheme is to provide tap water to every household.
CEC Khan instructed the PHE officials to immediately rectify and complete the scheme by ending March with connection to every household.
He also instructed concerned officers to realign the pipeline route from existing side to sun facing side to avoid freezing in winter months.
The Councilor Chandan suggested an additional DPR to realign the route for which the CEC also expressed his agreement.
At some places it was found that pipes are stretched along the middle of the road which becomes a challenge to repair it in case of damage. The CEC further instructed the concerned officials to find out an appropriate mechanism to realign the pipeline.
CEC Khan also paid a surprise visit to Primary Health Centre (PHC) Shargole where he inspected all sections including the labor room, general ward, laboratory, dental section, emergency section etc.
He appreciated the efforts of BMO and her team for their services being rendered to patients. CEC assured the doctors to provide some additional heating plates for the labor room and general ward and also tiling for the ground/parking place.
The CEC further took stock of air concentrator, heating system, functioning of dispensary and OPD, and immunization section of the hospital.
At the hospital, concerned Medical Officers appraised the CEC about its functioning and requested to depute back doctors of the PHC attached at other places in the district.
CEC Khan assured them to do the needful to provide quality health care services to people of the area.
The Councilor appraised that the PHC needs a heating system in different sections for which the CEC Khan assured to provide the same for smooth functioning of the health center.