CEC Feroz Khan inaugurates various projects related to rural education by 17000 ft Foundation, SEMOK at Gargardo, Darchiks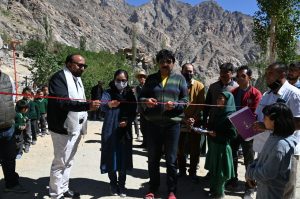 KARGIL, SEPTEMBER 27,2021: Chairman and Chief Executive Councilor, LAHDC, Kargil Feroz Ahmad Khan during his visit to Gargardo and Darchiks villages today inaugurated several projects of 17000 ft Foundation and Students Educational Movement of Kargil (SEMOK) aimed to strengthen education in rural areas.
Executive Engineer REW Kargil Gulzar Hussain Munshi, Zonal Education Officer (ZEO) Kargil Nargis Banoo, District Librarian Kargil Zahoor Ahmad, Director 17000 ft Foundation Dawa Dorjay, President SEMOK Ali Murtaza besides other concerned officers accompanied the CEC during the visit.
At Middle School Gargardo, the CEC inaugurated the volleyball court, solar lights, library and digital classroom sponsored by Signify Kul Jyoti CSR Project and 17000 ft Foundation.
Hailing the efforts of the 17000 ft Foundation in strengthening rural education infrastructure, the CEC said that as Councilor of the Silmo Constituency he is very thankful to the organisation for their noble endeavours.
CEC Feroz Khan urged the parents, students and school committee members to ensure proper maintenance and judicious usage of the new facilities.
Regarding various issues for further development of the school, the CEC said that the first priority would be to erect the fencing and levelling of the play field. He further said that for required construction works of the school building, the concerned department will be directed to prepare estimates so that construction process will be started soon.
CEC Khan said that in future collaboration with organisations like the 17000 ft Foundation on human resource development is necessary so that manpower in the education department is trained well.
Later, the CEC also inaugurated Maulana Qadir Community Library Gargardo sponsored and prepared by SEMOK Kargil.
While hailing the services of SEMOK in the education sector, CEC Khan advised the members to continue to work dedicatedly for the benefit of the people.
Meanwhile, the CEC also met various public delegations and after giving a patient hearing to their grievances and developmental needs assured them of redressal in a phased manner. He said that major demands of his constituency as promised have been fulfilled and all out efforts will be made to ease the life of the people.
At Government Middle School Darchiks, the CEC inaugurated a digital classroom sponsored by Hero Future Energy Limited and 17000 ft Foundation.
Regarding the issue of vacancy of teachers at the school, Physical Teacher and Class-VI employees, the CEC Kargil said that the issues will be considered for suitable follow up measures. He also assured to provide a submersible pump to the school and said that necessary measures will also be taken for expansion of the school campus.