CEC Feroz Khan inaugurates science laboratory at GMDC Zanskar, flags off Fit India Freedom Run under Azadi Ka Amrit Mahotsav Attends paper reading, poetry session by LAACL Kargil, conference on social, emotional and ethical learning by Flowering Dharma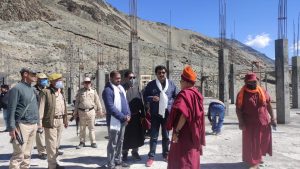 KARGIL, SEPTEMBER 16, 2021: Chairman and Chief Executive Councilor, LAHDC, Kargil Feroz Ahmad Khan inaugurated science laboratory at Government Model Degree College (GMDC) Zanskar here today.
The science laboratory has been established at a cost of Rs 60 lacs under State Capex and District Capex Budget.
The CEC while congratulating the students and staff members for coming up of the science laboratory in the college urged the students to take full benefit of the high tech equipments available. He also appreciated the college authorities especially the Principal Nassir Shabani for his efforts in establishing of specialized infrastructural facilities in the college like smart classes, fully fledged computer lab, gymnasium, all major sports equipments and other required facilities.
The CEC also attended the paper reading and poetry session organized by Ladakh Academy of Art, Culture and Languages (LAACL) Kargil and a conference on social, emotional and ethical learning by Flowering Dharma in collaboration with GMDC Zanskar in the college building in connection with the Ladakh Zanskar Festival as a part of Azadi Ka Amrit Mahotsav.
CEC Khan hailed the members of Flowering Dharma for spreading the message of peace, social and ethical learning among the younger generation through such programmes and also invited them to conduct similar events at Kargil in near future.
CEC Feroz Khan also flagged off the Fit India Freedom Run from Tourist Reception Center (TRC) Padum which after passing through Padum Town culminated at Dak Bungalow Padum.
The Freedom Run organized as a part of the ongoing Ladakh Zanskar Festival under Azadi Ka Amrit Mahotsav by the Education Department, GMDC Zanskar, Nehru Yuva Kendra (NYK) and Sports Authority of India (SAI) Training Centre Kargil was attended by around 100 students from different educational institutions and volunteers of NYK.