CEC Feroz Khan inaugurates 5 Days Mega Multi Speciality Camp by Al Reza Health Care and Research Foundation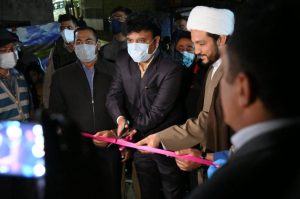 KARGIL, SEPTEMBER 05, 2021: Chairman and Chief Executive Councilor, LAHDC, Kargil Feroz Ahmad Khan inaugurated 5 Days Multi Speciality Health Camp organized by Al Reza Health Care and Research Foundation (AHC&RF) at Qatlgah Complex here on Saturday evening.
The camp is scheduled to commence from 6th September, 2021.
Executive Councilor for Health Mohsin Ali, Secretary Tourism and Culture Ladakh Kacho Mehboob Ali Khan, Deputy Commissioner and CEO, LAHDC, Kargil Santosh Sukhadeve, SSP Kargil Anayat Ali Choudhary, ADC Kargil Tsering Motup, ASP Kargil Iftikhar Talib Choudhary, ACR Kargil Abdul Gaffar Zargar, President Anjuman e Jamiat ul Ulema Isna Ashariya Kargil (AJUIAK) Sheikh Nazir ul Mehdi Muhammadi, Knee Replacement Surgeon Dr Badr Azam Khan, President AHC&RF Dr Muhammad Abbas, doctors, district officers and volunteers of AHC&RF were present on the occasion.
CEC Feroz Ahmad Khan in his address hailed the efforts of AHC&RF to improve the health care system in Kargil and congratulated the organization for holding the mega health camp for benefit of the needy patients.
Highlighting the role of AHC&RF in serving the masses in health sector particularly during the COVID-19 pandemic, CEC Khan said that their efforts are beyond doubt applaudable.He also hailed the contribution of all doctors, health personnel and other individuals and organizations associated with health sector and civil society in curtailing the spread of Coronavirus in the district.
CEC Feroz Khan stressed on the need to identify patients from the poor sections of the society for the camp, and also urged for exemption of nominal fee. He further said that the LAHDC and District Administration Kargil will extend all possible support for the successful conduct of the camp.
EC Health Mohsin Ali in his address said that in a short span of 4 years, AHC&RF has contributed immensely in extending health care facilities to the rural population in the district. He also expressed gratitude to the specialists for having ensured their presence to provide selfless sevices to the people of Kargil through the camp.
Speaking on the occasion, DC Kargil Santosh Sukhadeve said that efforts of AHC&RF and team of Dr Badr Azam Khan will benefit the people of Kargil immensely.
President AJUIAK Sheikh Nazir ul Mehdi Muhammadi said that education and health has remained their top most priorities and similar programmes will be organized in future.
President AHC&RF Dr Muhammad Abbas thanked all the guests,dignitaries, doctors, volunteers and other agencies for making the programme a success, and said that the camp will commence for 5 days from Monday onwards.
Knee Replacement Surgeon from Dubai Dr Badr Azam Khan, Former President AHC &RF Dr Fatima Nissa, Dr Fatima Banoo and Dr Abbas Ali also addressed the gathering.
Pertinently, the Mega Camp will be providing health care in 5 major specialities of heath care from 5th of September, 2021 including Knee Replacement and Ortho by Dr Badr Azam Khan, Psychiatry by Dr Obaid and Dr Fazil, Laproscopy and Gynaecology by Dr Usha Kiran, Chest Diseases and Pulmonology by Dr Shameem and Optholmology by Dr Manzoor ul Mehdi Muhammadi.
In addition to the team of doctors from Dubai and Kashmir, doctors from Kargil will also provide services in the camp.
Dr Nida Fatima and Dr Zakir Hussain Sharah conducted the proceedings of the programme.