CEC Feroz Khan grieved over demise of His Eminence Chosje Togdan Rinpoche.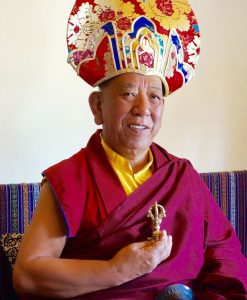 Kargil, May 25, 2023: Chairman and Chief Executive Councilor (CEC), LAHDC, Kargil Feroz Ahmad Khan today condoled the sad demise of His Eminence Chosje Togdan Rinpoche, the spiritual leader of the Drikung Kagyu lineage in Ladakh.
The CEC expressed profound grief and sorrow over the demise of Chosje Togdan Rinpoche and described him a noble soul and said that his death was a huge loss for whole Ladakh.
The CEC said that his departure from this earthly abode is an irreparable loss for the Buddhist Community of Ladakh and across the globe.
In his condolence message, Khan conveyed his heartfelt condolence and expressed sympathy with the bereaved family members in this hour of grief.
"In this hour of grief, we pray to the Almighty Allah to grant strength to his family to bear with this great loss. Let us all pray for his quick reincarnation so that he continues to guide us and show us the path to salvation," the CEC prayed.
Rinpoche was born into a poor family of Konchog Tsultrim and Kelsang Dolma in 1939 in Durbuk, a small village situated 110 km east from Leh in Changthang.