CEC Feroz Khan flags off milk vans for Cooperative Societies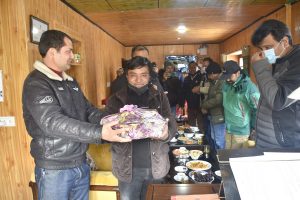 KARGIL, FEBRUARY 28, 2022: Chairman and Chief Executive Councillor (CEC), LAHDC, Kargil Feroz Ahmad Khan today flagged off milk vans for Milk Cooperative Societies in Kargil.
The CEC also inaugurated a recreation-cum meeting hall at the office of Deputy Registrar Cooperatives at Baroo. The hall is constructed at an estimated cost of Rs 44.64 lakhs.
The three milk vans were provided to Milk Cooperative Societies of Tambis, Faruna, and Shilikchay. The vans have been procured under subsidy component at a cost of Rs 5.40 lakhs per van where 25 percent has been paid by the beneficiaries. The milk vans have a refrigerator of 250 liters capacity, an inverter, and milk cans.
On the occasion, Executive Councillor for works Aga Syed Abass Razvi, Deputy Commissioner and CEO, Kargil, Santosh Sukhadeve, Deputy Registrar Cooperatives, Dr Zakir Hussain, DSHO, Dr Iftikhar Hussain, and CAHO Dr Muhammad Ismail were present.
The Cooperative Society from Tambis, which is the oldest milk society, informed the CEC that the society supplies 100 liters of milk daily to the market. The CEC instructed all the societies to increase their supply quantity for the public good.
The Deputy Commissioner instructed the Cooperative Societies to increase the size of their society by increasing its number of members.
The Deputy Registrar Cooperatives appraised that they are mulling to establishment Milk Federation by a collaboration of all milk societies.