CEC Feroz Khan felicitates winners of regional AKAM quiz competition Appreciates role of AIR Kargil in preservation of language, culture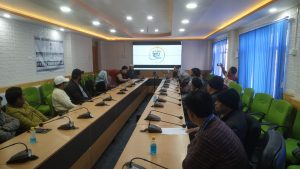 KARGIL, 05 APRIL, 2022: Chairman and Chief Executive Councillor, LAHDC, Kargil Feroz Ahmad Khan today felicitated the winners of the regional Azadi Ka Amrit Mahotsav quiz (AKAM) competition which was organized by the Regional News Unit AIR Kargil and LAHDC Kargil at Council Secretariat.
The event was presided over by the CEC and was attended by Executive Councillors, Aga Syed Hassan Arman, Er Punchok Tashi, Aga Syed Abass Razvi and Mohsin Ali along with Program Head AIR Kargil, Stanzin Lotus, News Editor Muhammad Abdullah, Correspondent Anayat Ali and winners were also present.
CEC Khan said that the All India Radio Kargil unit is doing a wonderful job in the preservation of language and culture, dissemination of information and news in the frontier district.
He expressed his pleasure on the successful collaboration between Regional News Unit Kargil and LAHDC Kargil for conducting the quiz competition which is proving helpful for the listeners to learn and keep themselves updated about different topics. He congratulated the winners and assured that LAHDC Kargil will collaborate on such programs in future also.
Hailing the role of AIR Kargil, the CEC said it has been catering to the people of the region by providing programs in their local languages like Purgi, Balti, Sheena and other dialects.
He said AIR Kargil is playing a major role in preserving and promoting culture, language, literature, and traditions of Kargil with due care for the linguistic and religious aspirations by producing programs as per the taste of local audience.
He said AIR Kargil has been disseminating awareness regarding different government schemes and news in times of natural calamities to the people of the region.
While speaking on the occasion Director Engineering and Head of Office AIR Kargil, Chandrika Prasad thanked CEC Khan for supporting the initiative of AIR Kargil.
As a gesture of appreciation on behalf of LAHDC Kargil, the CEC and other guests awarded the winners with specially crafted mementos.
The Regional News Unit AIR Kargil conducted the weekly quiz program through AIR Kargil to celebrate Azadi Ka Amrit Mahotsav from August 13 to August 15, 2022.
The aim of the program was to highlight culture, traditions, history, literature and other aspects of Kargil which will open and engage all sections and regions of the society.
Questions are asked every Friday after the Purgi News Bulletin and the answers should reach RNU AIR Kargil at their email: air.kargil@gmail.com till 10 a.m. of the subsequent Sunday. The first respondent with correct answer through email will be the winner.