CEC Feroz Khan discusses various issues of Kargil District with Principal Secretary Ladakh Dr Pawan Kotwal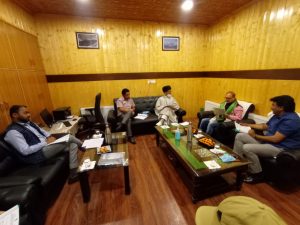 KARGIL, AUGUST 10, 2021: Chairman and Chief Executive Councillor, LAHDC, Kargil Feroz Ahmad Khan discussed various issues of Kargil District with the Principal Secretary Planning Development and Monitoring, Health, Revenue and Forest Ladakh Dr Pawan Kotwal during a meeting at Tourist Facilitation Centre (TFC) Biamathang here today.
Executive Councillor for Works Aga Syed Abbas Razvi, Executive Councillor for Social Welfare Aga Syed Hassan Arman Mosavi, Executive Councillor for Health Mohsin Ali and Deputy Commissioner and CEO, LAHDC, Kargil Santosh Sukhadeve were present in the meeting.
The CEC urged the Principal Secretary UT Ladakh for setting up of a system for redistribution of CAPEX Funds within sanctioned head and authorization for grant of approval to be placed at the disposal of the CEO, LAHDC, Kargil. He also underlined the need for early issuance of modified guidelines for CCD Funds in wake of the short working season besides making the District CAPEX Budget non-lapsable.
CEC Khan also requested the Principal Secretary Ladakh for an increase of 15% in Annual District Capex Budget in each succeeding financial year from the financial year 2022-23 onwards. He also said that the subsidy component under agriculture and allied sectors should continue in the upcoming budgets as it directly benefits BPL beneficiaries.
The issues with regard to Health Department projected by the CEC Kargil during the meeting included the need for creation of 7 posts of Block Medical Officers, up gradation of CHC Chiktan to the level of Sub District Hospital, up gradation of PHC Shargole and PHC Panikhar to the level of Community Health Centre, establishment of Urban Health Center at the location of current District Hospital once it is shifted to its new location at Kurbathang Kargil, sanction of Block Programme Management Unit staff under NHM for Kargil and Shargole, providing of air ambulance service to Kargil , provision of three 4×4 ambulances for COVID-19 Hospital Kargil for use during winter months, provision of 1 CT Scan for COVID-19 Hospital Kargil, up-gradation of NTPHC Batalik to PHC, clearance of time-bound promotion cases of Medical Officers, incentives for Dental Surgeons serving in far-flung areas and other related issues.
CEC Feroz Khan also urged the Principal Secretary that the SDP and State Sector Budgets must be vetted by the LAHDCs to avoid duplicacy of projects/works, adding he also suggested that the Tribal Sub Plan (TSP) should also be vetted by the LAHDCs so that works are taken for execution as per the actual requirement of the general public. He also underlined the need for release of funds under the Border Area Development Programme (BADP).
The CEC Kargil also took up the issue of the evacuation of Lower Kurbathang Plateau and monitoring of implementation of MoU signed with the Army, inclusion of Kargil Town, Poyen and Baroo areas in the Actual Line of Control (ALC) category, and inclusion of all areas (irrespective of urban/rural divide) within 10 KM of the ALC in the list of beneficiaries of areas under ALC certification. He also stated that the severe drought and post flash flood situation in the district during the current year requires major relief for the drought hit and flood hit areas.
CEC Khan also urged the Principal Secretary for measures for filling up of the posts of SDMs, Tehsildars, Naib Tehsildars, Patwaris and other staff of the Revenue Department as a large number of these posts in the revenue department are vacant.
As regards to the issues of Wildlife Protection Division and Forest Department in Kargil, the CEC underlined the need for creation of two new ranges at Sankoo and Drass on the similar pattern as that in Kargil Division and creation of new posts in Wildlife Protection Division Kargil.
CEC Khan emphasized the need for creation of new forest ranges at Shakar Chiktan, TSG and Shargole for proper implementation of Forest schemes in Kargil District. He further urged that a separate range of Pollution Control Board with sufficient number of staff is required in the district.
The CEC also highlighted the requirement of a separate Forest Research Institute and Agrostology wings on similar pattern as of the Union Territory of J&K to ensure introduction of new species to the district and in standardization of growing medicinal plants in the area, establishment of Forest Training School at Kargil to impart departmental training to the officials, filling up of vacant posts in Forest Division Kargil, transfer of Forest Protection Force from UT J&K to UT Ladakh and other related issues.
The Principal Secretary gave a patient hearing to all issues and demands projected by the CEC, Kargil and assured that the issues will be considered for suitable follow up.