CEC Feroz Khan discusses fellowship, entrepreneurship opportunities for students of Kargil in various IITs with Directors of IIT Delhi, Mumbai, Kanpur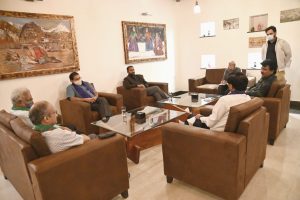 KARGIL, SEPTEMBER 21, 2021: Chairman and Chief Executive Councillor, LAHDC, Kargil Feroz Ahmad on Tuesday evening discussed the possibilities of fellowship, employment and entrepreneurship for the students of Kargil with the members of the high-level team comprising of the Directors of the Indian Institute of Technology (IIT) Delhi, Indian Institute of Technology (IIT) Bombay and Indian Institute of Technology (IIT) Kanpur which is on a 2 day visit to Kargil District to look for the feasibility for establishment of engineering college and explore fellowship opportunities for the students of Ladakh in various IITs.
Deputy Commissioner and CEO, LAHDC, Kargil Santosh Sukhadeve and SSP Kargil Anayat Ali Choudhary were also present on the occasion.
CEC Feroz Ahmad Khan while extending warm welcome and expressing gratitude to Professor V Ramgopal Rao Director IIT Delhi, Professor Abhay Karandikar Director IIT Kanpur, Professor Subhasis Chaudhuri Director IIT Bombay, Professor M Balakrishnan Computer Science and Engineering IIT Delhi for their visit to Kargil hoped that the visit will open up opportunities for the students to apply for the annual fellowship programme in IITs, incubation and innovation programme and internship with the IITs in future.
The CEC said that there is no dearth of talent in the children here and all they need is the right exposure and opportunities for which the IITs can play a major role.
The Directors spoke about the 6 months or 1 year fellowship programmes for college students, MSc, PhD and other research courses which can be launched by the IITs to the students of Ladakh in future.
The scheme needs to be designed, scholarships, IITs, number of students to be selected and other related aspects need to be discussed thoroughly to decide the future course of action, the Directors asserted.
The meeting also discussed the possibility for faculty development, training and mentorship, and incubation driven engineering programs and creation of extension cells in colleges by the IITs in Ladakh.
The CEC assured the IIT Directors that the LAHDC Kargil is committed to extend all out support and cooperation for successful execution of various programs offered by the IITs for welfare of the student community in the district.