CEC Feroz Khan chairs RKS meeting of District Hospital Kargil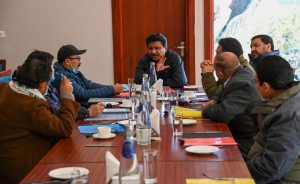 KARGIL, NOVEMBER 29, 2021: Chairman and Chief Executive Councilor, LAHDC, Kargil Feroz Ahmad Khan chaired the Rogi Kalyan Samiti (RKS) meeting of the District Hospital Kargil (DHK) here today.
Councilor Town Haji Muhammad Abbas, CMO Kargil Dr Munawar Hussain Wazir, Medical Superintendent District Hospital Kargil (DHK) Dr Liyaqat Ali Khan besides other members of the governing body of the RKS including the officers of Municipal Committee, KREDA, Rural Development, Information, PHE, PDD and other concerned officers attended the meeting.
During the course of the meeting, the CEC reviewed the functioning of the DHK and also took stock of the infrastructural facilities available at the health institution.
CEC Khan instructed members to fix priorities for repair, renovation, other construction works, purchase of life saving drugs and Jan Aushadhi drugs and other works related to the hospital out of the RKS funds.
It was decided during the meeting that an amount of Rs 20 lacs would be approved for the purchase of emergency and Jan Aushadhi Drugs while the construction works of the roofing of the Dental Section, repairing of various sections like CT Scan Section, MOT, Dermatology Procedure Room, Blood Bank Section, Audiometry Room, Surgical ICU , Office Block, installation of 2 submersible pumps in the hospital premises besides the white washing works of the hospital building would be executed as per the estimates furnished by the PWD Department Kargil.
Various issues related to the overall functioning of the DHK Kargil besides the steps needed to be taken for augmentation of Health Care facilities to the patients and general public were discussed threadbare and the CEC instructed the officers concerned to take all required measures in this regard.
As regards to the future utility of the Hospital Building in coming years after the District Hospital Kargil is shifted to the 300 bedded structure at Kurbathang, CEC Khan instructed the officers to formulate DPR for development of the building as an Urban CHC with facilities of staff quarters, underground parking, Human Resource under the NHM National Health Mission.
The CEC also instructed the CMO and the Medical Superintendent Kargil to project the construction works of the dental section of DHK under the District Capex Budget 2022-23.