CEC Feroz Khan chairs meeting to discuss syllabus of Arabic subject at school level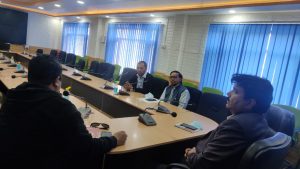 KARGIL, SEPTEMBER 11, 2021: Chairman and Chief Executive Councilor, LAHDC, Kargil Feroz Ahmad Khan chaired a meeting to review the syllabus of Arabic subject at school level in the district during a meeting held at the Council Secretariat here today.
Assistant Professor Arabic Department University of Ladakh, Dr Abdul Aziz Nadvi besides Arabic teachers from various government schools were present during the meeting.
CEC Khan said it is observed that considering the socio-cultural needs of Ladakh and modern values an amended an uniform syllabus for Arabic subject at school level needs to formulated as it will enhance discipline and seriousness towards the curriculum.
Feroz Khan further directed to frame a committee on teachers' level and said that a future action plan will be framed after the next meeting with Director School Education and CEO Kargil. He further stated that the expenses on account of the drafting of the document in this regard will be borne by the LAHDC Kargil.
Resource Person Dr Abdul Aziz Nadvi said that Arabic language has great scope in global market and is equally fruitful in recruitments at national level. He added that the syllabus needs to be formulated considering the social and cultural needs of the local society as well as the global needs and further stressed that the syllabus and the system should be organized in a way that the students get interested in the subject.
Meanwhile, the Arabic teachers' fraternity applauded the initiative taken by the CEC Kargil and said that orientation and workshops need to be organized with the teaching fraternity particularly on spoken Arabic.
Thorough deliberations and discussions were done on various aspects of the framing of revised syllabus and other aspects pertaining to the status of Arabic language in schools and the teachers shared their opinion.