CEC Feroz Khan chairs meeting regarding Tourism Vision Document for Ladakh Emphasizes inclusion of adequate data related to Kargil District to ensure holistic, all-inclusive vision document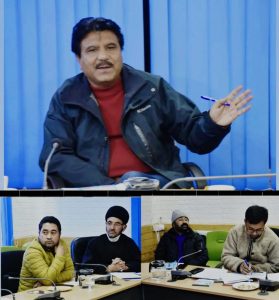 KARGIL, NOVEMBER 29, 2021: In order to get feedback and suggestions on the Tourism Vision Document for Ladakh, Chairman and Chief Executive Councillor, LAHDC, Kargil Feroz Ahmad Khan convened a meeting of the Executive Councillors and concerned officers of Tourism Department Kargil and tourism stakeholders at the Council Secretariat here today.
The draft tourism document for Ladakh has been formulated by the National Investment Promotion and Facilitation Agency (INVEST India).
Executive Councillor for Social Welfare Aga Syed Hassan Armaan, Executive Councillor for Tourism and Zanskar Affairs Er Punchok Tashi, Executive Councillor for Works Syed Abbas Razvi, Executive Councillor for Health Mohsin Ali, Assistant Director Tourism Kargil Aga Syed Taha, Special Officer for Cultural Activities Kargil Muhammad Ali Tak and representatives of All Kargil Travel & Trade Association, Himalayan Sports Organisation Drass besides other concerned officers attended the meeting.
During the course of the meeting thorough discussion and deliberation was held on different action points proposed in the vision document.
The Assistant Director Tourism Kargil through a detailed power point presentation highlighted the action points proposed in the vision document in response to which the CEC Kargil, ECs and tourism stakeholders put forth their suggestions and feedback.
CEC Feroz Khan pointed out that Suru Valley and Zanskar Valley should be mentioned as major tourist destinations on the tourist map of Ladakh. He stated that the objective of the document is to ensure that the benefits of tourism reach the last mile, which is appreciable, adding he said that to achieve this goal, extensive training must be given to locals, especially for guiding mountain expeditions and other adventure related activities like ice-hockey, snow ski, rock climbing, rafting, paragliding, boulder climbing etc.
While expressing concern over the inclusion of inadequate data related to Kargil District in the vision document, the CEC stressed the concerned to taken into account all relevant data so as to ensure a holistic and all-inclusive Tourism Vision Document.
The CEC and the ECs suggested that on the map showing potential tourism hubs, Suru Valley needs to specified as a tourism hub while Maitreya Buddha Statues at all locations in the district needs to be depicted and villages like Kukshow, Hunderman, Zbayul Haniskote etc should also be represented as heritage villages in Kargil District.
It was further emphasized that a local branch office of the Indian Mountaineering Foundation (IMF) should be opened at Kargil and Heli Skiing facility be also setup at Kargil in addition to Zanskar to cater to the international skiers.
Among the list of action points related to wellness Tourism, the meeting suggested that centres for Cold Shower Therapy under controlled conditions may be explored in Drass and Zanskar Valleys besides inclusion of Mulbekh Hot water springs, Yarkashing Hot water springs, Dumbo Shilikchey and other locations for establishment of Psammotherapy centers.
The establishment of a Multireligious Spiritual Circuit to include Hindu as well as Islamic spiritual sites in addition to the already proposed Buddhist sites was suggested by the members of the LAHDC Executive Council and the tourism stakeholders thereby expanding the scope of spiritual tourism in Ladakh.
The meeting was of the view that the Department of Tourism must organise Annual Vijay Diwas Celebrations at Kargil War Memorial Drass in the period preceding the celebrations by the India Army (3rd week of July each year). Keeping in view the lack of quality accommodation facilities in Kargil District, it was pointed out that the UT Ladakh Administration may provide special incentive package for development of A+ hotels in Kargil so as to encourage the general public to get involved in the hospitality industry at the highest level.
It was also suggested that the rock cut statues at Mulbekh, Apati, Kartsey Khar and the rock carvings at Drass, rKilmartsey-Biyama Khombu, Sani- Zanskar etc. needs to be added to the table enumerating the list of heritage sites.
Mount Nun and Kun, Mount Nindum, Mount Naqtul, Mount Pinnacle, Mount White Needle, Mount Z1 and other unexplored peaks from District Kargil needs to be added to the list of peaks in Ladakh in the vision document while the trekking routes from District Kargil are also missing in the document which needs to be included, the CEC and ECs asserted.
Meanwhile, the meeting also emphasized that the Vision Document Drafting Team must conduct a visit of Kargil District to have an on-spot assessment of the ground realities before the vision document is finalized. The CEC and ECs also said that there should be a calendar for celebration of Annual Apricot festival, UT Level Food festival–Mamani & Flower festivals-Mendoq Rgyaspa and Aryan Bonona Festival in the district annually.
Development of ski slopes at Linkipal, Manman, Tololing, Lalung La, and Umba La, exploration of Umba La and Lalung La Ski Slopes as summer skiing sites was also suggested during the meeting while establishment of Gondola System from Sherbagh to Kurbathang, Baroo – Zbichu Thang to Kurbathang and Shilikchey to Tiktikmo Hill was also suggested to be included in the vision document.
Among other suggestions and inputs, the meeting called for inclusion of Machoi Glaciers and the trek route leading to it among the list of the glaciers and trekking routes.
Exploration and installation of amenities required in the short-term time frame, revival of local porters and horse-rearers for assistance in treks by incentivising and providing trainings, outdoor ambience development at Hunderman Village for giving an overall patriotic feel to visitors by installation of National Flag, music system, departmental souvenir shop, view point and stone masonry-based restoration/ repair/ renovation of ancient traditional buildings.