CEC Feroz Khan chairs meeting on winter tuitions in government schools Winter tuition to be started from 12 January with strict adherence to Covid-19 SOPs: CEC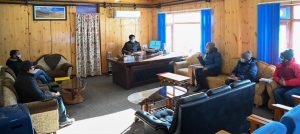 KARGIL, JANUARY 10, 2022: Chairman and Chief Executive Councilor, LAHDC, Kargil Feroz Ahmed Khan today chaired a meeting of officers to review the preparedness ahead of opening of winter tuition centres in government schools across Kargil district.
The meeting was attended by Deputy Commissioner and CEO, LAHDC Kargil, Santosh Sukhadeve, Chief Medical Officer Kargil, Dr Monawar Hussain Wazir, Chief Education Officer, Nazir Ahmad Wani, District Education Planning Officer, M Amin and Consultant Samagra Shiksha, Syed Sajad.
During the meeting, CEC Khan sought details from CEO Kargil regarding the preparedness of schools ahead of opening of tuition centres in government schools.
He also reviewed all the necessary arrangements being put in place in the schools and said that there are 145 tuition centres across Kargil district.
The meeting was informed that temporary academic arrangements specifically for winter tuition centres have been made in all blocks and sub-divisions.
The CEC said the Council is constantly monitoring the situation of Covid-19 in the district and has fast-tracked the vaccination drive for students of 15-18 years of age.
He said that education has been top priority of LAHDC Kargil during the Covid-19 pandemic and Rs 2 Crores has been allotted for winter tuition for Kargil.
During the meeting, the Deputy Commissioner said that only 50% capacity of students in classrooms will be allowed in the schools with strict adherence to all the Covid-19 SOPs issued by the Union Health Ministry.
He said wearing of masks, social distancing and use of sanitizers should be made compulsory. The winter tuition is being started for 6th to 10th class students.
DC Santosh said that random Covid-19 testing will be mandatory for the students and directed CMO Kargil to make necessary arrangements for the same.
He also said that all the above 15 years students should be vaccinated, while all teaching faculty should be vaccinated with both doses.
During the meeting, it was decided that the winter tuitions in government schools will be started from 12 January after making all the necessary arrangements including proper heating arrangements and sanitation in these centres.
DC Santosh also directed CEO Kargil to ensure proper heating arrangements are ready in schools so that students don't face any kind of problem.
During the meeting it was decided that the private coaching centres will be allowed to function as per the Covid-19 protocols and the SOP's issued by the district administration.
All such centres have to seek proper permission from CEO/ZEOs before starting classes. Also random sampling will be done in these coaching centres as well.