CEC Feroz Khan calls upon Vice-Chancellor SKUAST-K CEC discusses a range of issues including preference for native Ladakhis in posts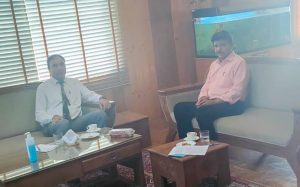 KARGIL, MAY 19, 2022: Chairman and Chief Executive Councilor (CEC), LAHDC, Kargil Feroz Ahmed Khan Wednesday called upon Vice-Chancellor Sher-e-Kashmir University of Agricultural Sciences & Technology (SKUAST-K) Nazir Ahmed Ganai and discussed a range of issues regarding the functioning of SKUAST-K and Krishi Vigyan Kendras (KVKs).
The CEC appreciated the services provided by SKUAST-K for uplifting the agricultural sector in Kargil, Ladakh by introducing innovative and geo-climatic specific interventions.
He said the role played by the SKUAST-K has suffered setback in the past couple of years and has been further aggravated due to call back of the staff members from SKAUST-K.
While raising certain issues, CEC Khan said that the SKUAST-K had called back their staff to UT J&K after the reorganization of the erstwhile J&K State and that these posts have been vacant thereby adversely affecting the functioning of the KVKs.
He said that no recruitment has been conducted to fill the posts nor has any relieving staff posted against those called back to Kashmir.
Underlining the fact that the administration of the SKAUST-K centers in Kargil are still lying with SKUAST the CEC urged the Vice-Chancellor to fill up the posts at the earliest by conducting a recruitment drive and pointed out that preferences in all such recruitments should be given to local candidates.
If conducting recruitment for permanent positions take a certain period of time, he urged the VC to fill the posts by engaging staff on contractual basis with preference to local aspirants.
The VC informed CEC Khan that SKUAST had advertised some posts for non-teaching staff that had to be put on hold due to UT-level communication between UT J&K and UT Ladakh.
The CEC said till the time the UT arrives at a resolution, SKUAST-K should recruit non-teaching staff among local aspirants in the interest of making the centers functional. The VC assured CEC Kahn that due efforts shall be made by the SKUAST-K for making the KVKs functional at the earliest.