CEC Feroz Khan attends first foundation day of Khwaja Ghulam Saiyidain Library, IKMT Hails contribution of IKMT in different walks of life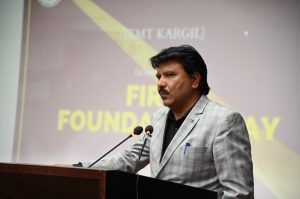 KARGIL, OCTOBER 03, 2021: Chairman and Chief Executive Councillor,LAHDC, Kargil Feroz Ahmad Khan attended the first foundation day of Khwaja Ghulam Saiyidain Library (KGSL), Imam Khomeini Memorial Trust (IKMT) Kargil at Auditorium Hall Kargil here today where he was the chief guest.
On the occasion, writer and educationist Dr Saeeda Saiyidain Hameed and Professor Ghulam Rasool Jan were presiding as special guests and key speakers while former MLA Haji Asgar Ali Karbalai, Chairman IKMT Sheikh Muhammad Sadiq Rajai, members of IKMT, members of KGSL and a good number of students were present.
In his address, CEC Feroz Ahmad Khan appreciated the KGSL members for establishing such a well furnished and well equipped library facility in Kargil Town which provides facilities like good reading environment, books, journals, and internet facility. He further said that the libraries now a days are relevant in providing a good and healthy reading environment for the young generation, however, in presence of smart phones, laptops and internet providing reading materials and resources is not a major challenge.
The CEC further appreciated the IKMT Kargil for providing services in different walks of life. He mentioned that the organization is providing quality health care services through Baqariya Health Care and Research Center, agricultural know-how and research through Baseej-e-Zaraat and quality education through Mutahhary Public Schools Network. He advised the library authorities to provide a proposal for their requirements and accordingly he assured to provide funds for development of the library.
Speaking on the occasion, key speaker Dr Saeeda Saiyidain Hameed expressed gratitude to the IKMT and KGSL for honouring her father Khwaja Ghulam Saiyidain after 50 years of his demise. She said that establishment of such a well equipped library is important for intellectual growth of the younger generation and further appreciated the calligraphy, paintings and arts and crafts exhibited by the KGSL on the occasion of their foundation day.
Dr Hameed further mentioned that the collection and research on medicinal plants of Kargil have the potential to carry Kargil to new heights in terms of economy.She also gave a brief biography of her father and the inspiration of the library Khwaja Ghulam Saiyidain who was an educationist and contributed in strengthening the education system of Jammu and Kashmir.
Meanwhile, Professor Ghulam Rasool Jan presented a research paper on the topic Islam in Ladakh where he threw light on the visit of Sayyed Ali Kahadani, Sayyed Muhammad Noorbaksh and Mir Shamsuddin Iraqi in Ladakh and Gilgit-Baltistan. He mentioned a number of sources and literature to substantiate his findings and arguments.