CEC Feroz Khan attends event on Reproductive and Menstrual Health Hails efforts of Project Shoqpa in raising menstrual health awareness among adolescent girls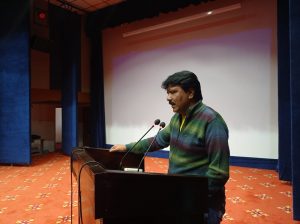 KARGIL, SEPTEMBER, 13, 2021: Chairman and Chief Executive Councilor, LAHDC, Kargil Feroz Ahmad Khan attended an event on Reproductive and Menstrual Health organised by project Shoqpa at Auditorium Hall Kargil here today.
During the event a short film tittled "The Bloody Revolution" was also screened.
Executive Councilor for Health Mohsin Ali, Deputy Commissioner and CEO, LAHDC Kargil Santosh Sukhadeve, Additional Deputy Commissioner Tsering Motup, Chief Education Officer Nazir Ahmad Wani, Chief Medical Officer Dr Munawar Hussain Wazir, members of Project Shoqpa and Roots Ladakh besides good number of audience were present during the event.
Speaking on the ocassion, CEC Feroz Ahmad Khan applauded the efforts of Team Project Shoqpa in raising awareness about menstrual health amongst adolescent girls, adding he also hailed their concept of local made pads. He also stressed the government departments and other stakeholders to come forward to enlighten and educate adolescent girls about menstrual health.
CEC Feroz Khan suggested the local Self Help Groups (SHGs) to adopt the concept of handmade local pads for generation of income and to promote use of local products. He assured all out support to Team Shoqpa and suggested them to frame long term projects.
The CEC also underlined the need to create funds under District Plan for such awareness programmes.
Executive Councilor for Health Mohsin Ali hailed Project Shoqpa for their contribution in educating the students in different schools about menstrual health and added that schools should make such an environment that the confidence of students is boosted.
Deputy Commissioner and CEO, LAHDC, Kargil Santosh Sukhadeve said that the administration is committed to extend all necessary support to the NGOs to aware the girls about menstrual health.
Gynaecologist Dr Nasreen Fatima also spoke on the occasion.
Meanwhile, volunteers of different schools presented a play on menstruation titled "Zainab Ki Khahani". A short film "The Bloody Revolution" directed by Imtiyaz Ali and produced by Project Shoqpa in collaboration with Directorate of School Education was also screened during the program.
Earlier, a rally on Reproductive and Menstrual Health was also taken out from Jamia Masjid Hanfia which culminated at Auditorium Kargil.
Co-Founder/ Director Project Shoqpa Nowsheen Khan and Co-Founder Khushboo Joshi presented the welcome speech and the vote of thanks respectively.
Intern Project Shoqpa Shamma Zehra conducted the proceedings of the event.
Meanwhile, the CEC and other dignitaries distributed certificates among the volunteers.