CEC, EC, DC Leh visit Stray Animal Care & Mgmt Centre at Nang village Appreciate Live to Rescue team for the noble initiative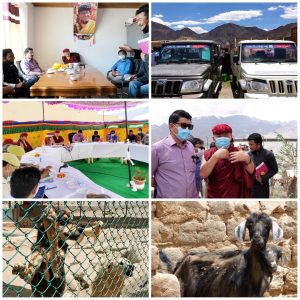 Leh, Aug 09: On the request of His Eminence Drukpa Thuksey Rinpoche, the Chairman/Chief Executive Councillor, LAHDC Leh, Advocate Tashi Gyalson along with Executive Councillor for Animal & Sheep Husbandry, Tashi Namgyal Yakzee and Deputy Commissioner Leh, Shrikant Suse visited Stray Animal Care and Management Centre (Live to Rescue) at Nang village today.
They were accompanied by Councillor Thiksey, Stanzin Chosfail, Councillor Kungyam, Thinles Norbu, Hemis Monastery Chakzod, Departmental heads of Leh district, Executive members of Society for Prevention of Cruelty against Animals (SPCA) and officials of Live to Rescue Centre.
CEC, EC and DC Leh made an onsite visit to the stray animal care centre and reviewed the centre's current scenario. Later a meeting was conducted in the chairmanship of The Chairman, LAHDC Leh and H.E Drukpa Thuksey Rinpoche to discuss measures for strengthening the stray animal care centre.
Officials of Live to Rescue (LTR) apprised the Chairman of the works being carried out by the volunteers and officials of LTR since its establishment under the leadership of H.H the Gyalwang Drukpa and H.E Drukpa Thuksey Rinpoche in the year 2014. They informed that Live to Rescue has been rescuing and facilitating medical care for injured stray animals, have also been providing shelter and food for these stray animals.
Addressing the gathering, H.E Drukpa Thuksey Rinpoche stressed the importance of compassion and care towards stray animals. He urges the general public to avoid treating stray animals with cruelty and also requested the District Administration to initiate awareness campaigns on educating and advocating the general public towards animal protection.
CEC Tashi Gyalson appreciated and extended his gratitude to the spiritual leaders for the initiative of the Live to Rescue and their contribution to the Ladakhi society at large. He also listened to the issues and demands of the Live to Rescue society and assured them to fulfil their requirements at the earliest possible. CEC Gyalson instructed departmental heads of Animal husbandry and its line departments to work collaboratively with the team of LTR and assist them whenever required.
EC Animal & Sheep husbandry, Tashi Namgyal Yakzee also praised the team of LTR for their tremendous contribution in rescuing and helping stray animals get proper shelter and medication. He suggested initiating stray animal adoption campaigns among the general public to reduce the menace of stray dogs in society.
DC Leh stated that the coordination and enforcement related issues will be resolved comprehensively and will conduct a meeting with the Executive members of SPCA to review their plans and work for the organization. He assured that the District Administration will work in close coordination with the Hill Council for developing and collectively strengthening the Stray Animal Care Centre in Leh.