CEC discusses plans for beautification of roads from Spituk to main market Leh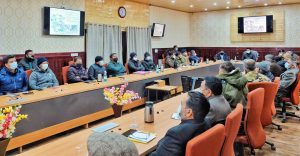 Leh, Dec 14: The Chairman/CEC, LAHDC Leh, Adv. Tashi Gyalson convened a meeting today to review and discuss plans for the beautification of roads from Spituk to main market Leh with different stakeholders and authorities associated with the project.
Representatives from the NHIDCL, RO Ladakh apprised the Chairman with their proposed design and plans for the beautification project. They highlighted major components associated which include ethnic streetscapes, topographical features, management of traffic, developing required infrastructure, etc.
While reviewing the plans, CEC Tashi Gyalson instructed the officials to constitute a committee for conducting a joint survey and to discuss major issues in consultation with the local stakeholders. He also suggested incorporating major concerns in line with the proposed ongoing projects within the town. He further directed the executing agencies to jointly explore the possibilities and actual alignments of the roads so that there could be more visibility and possibilities in terms of feasibility to discuss during the next course of meetings with the concerned stakeholders.
The meeting was attended by DC/CEO LAHDC Leh, SSP Leh, President MCL, Director ULB Ladakh, officials from GOC, HQ 14 Corps, AOC, Airforce Station Leh, SP Traffic Leh, Director AAI Leh, Superintendent Engineers of PWD, PDD, PHE along with the concern Executive Engineers, HODs of Horticulture and Command Area Development Departments Leh, Municipal Ward members, and representatives from NHIDCL, RO Ladakh.