CEC convenes meeting with members of Go Green Committee Discusses plans for a mega plantation drive in Chushul next year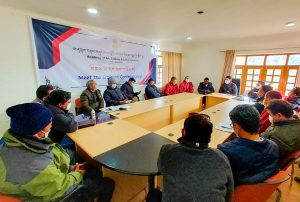 Leh, Nov 29: The Chairman/CEC, LAHDC Leh, Advocate Tashi Gyalson convened a meeting today to discuss plans for a mass plantation drive by the 'Go Green Go Organic' Committee of Chushul village to be held on the World Environment Day on 5th June 2022. The members informed that the collaboration on the Go Green project since 2014 with the Hill Council, Leh resulted in eleven phases, of which ten are already completed.
CEC Tashi Gyalson instructed the members to accomplish the plans for the mass plantation drive in a phased manner, keeping in mind the aim of making it to the Guinness World Records or the Limca book of records. Development of the Sea Buckthorn plantation, Red Bush (Umbu) plantation, Alfa Alfa and others were also discussed during the meeting, which would be of great benefit for the people of Ladakh. The members emphasised the importance of the meeting in respect of environmental challenges and the goal to make Ladakh completely organic.
EC Tashi Yakzee also informed the meeting that there was a massive contribution by the Forest Department and the Councillors to the success of the Go Green Project initiated by H.H Skyabgon Chetsang Rinpoche in the entire Lalok region of Changthang.
The members of the Go Green Committee expressed gratitude to the Chairman LAHDC Leh, MP Ladakh, EC Changthang, Councillors and other officials for their positive response to the Green Himalaya project. They also informed CEC Gyalson of the developments in villages like Shayok for the Go Green plantation projects, which focuses on the mass plantation efforts. As informed by the members, Shayok is already an organic village with the help of departments like Forest, Irrigation, Command Area, Horticulture and Rural Department.
CEC Tashi Gyalson also instructed the members to form a committee to review the developments on the same. He enquired the Horticulture and Forest department on the current situation and the requirements to achieve the goals planned for the mega plantation drive to be held next year.
The meeting was attended by Executive Councillor for RDD, DC Leh, Councillor Chushul, Nominated Councillor, Officials from the Agriculture, Forest, Horticulture, Health, RDD, I&FC, Command Area Development, R&B, PDD & PHE Department Leh, Sarpanch Chushul, Representatives from DIHAR, SKUAST and the Organising Committee of Go Green Project, Chushul.