CEC convenes meeting to discuss waste management, introducing DRS system in Leh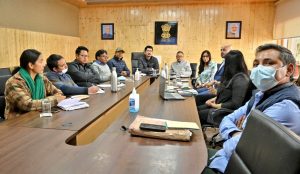 Leh Apr 09: The Chairman/CEC, LAHDC Leh Adv. Tashi Gyalson convened a meeting today with the officials of TOMRA, a Norwegian multinational corporation working on waste management, to discuss various measures on the issues regarding waste management in Leh.
The meeting had the presence of Executive Councillors of LAHDC Leh; President, Municipal Committee Leh; Chief Planning Officer, Leh; Executive Officer, Municipal Committee Leh; Supervisor, Project Tsangda; Commercial Councillor, Embassy of Norway; Head of Asia-Public Affairs, TOMRA; Director Head of Indian sub-continent, Public Affairs, TOMRA, and the Market Analyst, Public Affairs, TOMRA.
The meeting discussed in detail the management of solid waste products and the examples of Deposit Return System (DRS) to cover Used Beverage Containers (UBCs). Officials from TOMRA put forth their suggestions on various hybrid models for implementing the model DRS system to manage waste generation.
Taking note of the presentation, CEC Tashi Gyalson appreciated their innovative steps for the management of single use plastics and other waste materials at large. He further discussed initiating DRS with a pilot project in Leh soon. He further instructed CPO Leh to constitute a task force committee in this regard to assist and monitor the progress of the said project.