CEC attends Sustainable Mountain Development Summit in Darjeeling Leh to host the next edition of the SMDS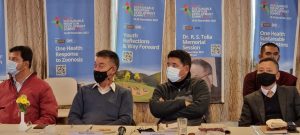 Leh, Nov 20: The Chairman/CEC, LAHDC Leh, Advocate Tashi Gyalson and the former CEC, LAHDC Leh, Rigzin Spalbar along with over forty legislators from national, state and city levels attended the 'Mountain Legislator's Meet' at the 10th Sustainable Mountain Development Summit (SMDS) in Darjeeling today. Shri. Chowna Mein, Deputy Chief Minister of Arunachal Pradesh was the Chief Guest at the occasion.
The MLM is organised under the aegis of the Integrated Mountain Initiative annually, where legislators from across the mountain states deliberate on pressing issues concerning mountain states cumulatively. This year the thematic focus of the MLM of the growing plastic menace that is contributing to plastic accumulating in oceans as the global sinks for plastic waste.
Discussions at the meet involved deliberations on the Extended Producer Responsibility (EPR), the need to avoid the overuse of plastics, nudging change in behaviour and consumer attitude, and strengthened action on plastic waste management.
Adding to the deliberations, the CEC, LAHDC Leh, Tashi Gyalson highlighted that with growing pressures from tourism and the fragility of the ecosystem in Ladakh, there is a need to consider environmental concerns in decision making. He further highlighted the problem of legacy waste that still needs to be dealt with in Ladakh and also explained the implications and concerns of climate change in Ladakh. In light of the newly formed Union Territory of Ladakh, and given Ladakh's increasing challenges with impacts of climate change including receding glaciers and drying streams, increasing frequency of natural disasters, changes in weather patterns and higher intensity of rainfalls in the region.
CEC Gyalson, on behalf of the Ladakh Autonomous Hill Development Council, Leh accepted the baton at the closing session of SMDS to host the next edition of the SMDS in Leh, Ladakh.
The Mountain Legislator's Meet culminated in the signing of the Darjeeling Declaration at the Mountain Legislator's Meet 2021 that seeks to collectively acknowledge the need for urgent action to bring stringent policies, support the Central government's call to work towards eliminating single-use plastics, advocate for EPR, facilitate the contextualisation of waste management rules in the Indian Himalayan Region and engage stakeholders to take proactive action in reducing plastic pollution.