CEC attends conference on recognition of Bhoti Language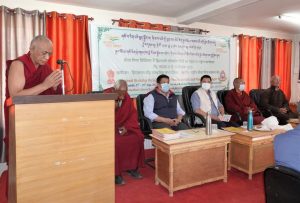 Leh, Sep 29: The Chairman/CEC, LAHDC Leh, Adv Tashi Gyalson attended a conference to discuss the need for recognition of Bhoti Language organized by the National Institute of Sowa Rigpa in collaboration with Himalayan Buddhist Cultural Association Leh.
All the guests were felicitated and detailed deliberations took place among all the guests, scholars, and experts from various backgrounds hailing from across the Himalayan states of India. Strengthening the Bhoti language and its preservation in the Himalayan states and inclusion of the Bhoti language in the 8th schedule of the Indian constitution were major points discussed during the meeting.
President LGA, Ven Shatup Chamba, Director, Namgyal Institute of Tibetology, Padma Wangyal Rinpoche, Director Health, Dr. Phuntsog Angchuk, Director, NISR, Dr. Padma Gurmet, President Himalayan Buddhists Cultural Association, Ven Chosphel Zotpa, various Scholars, Doctors, Amchis from Himalayan states, and officials of NSIR Leh attended the conference.