Career counselling program for students held in Kargil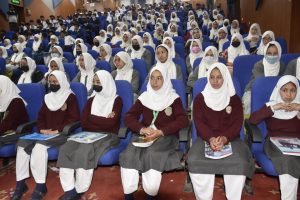 KARGIL, MAY 09, 2022: The Education Department under SAMAGRA SHIKSHA in association with LAHDC Kargil, today organized a career counselling program for school, college students and graduates.
The program was organized as part of series of programs held in different zones of Kargil.
Ajed Ali S. Shah, cofounder and director Edusapiens Private Limited New Delhi, Dr Javid Naqi Assistant Professor Government Degree College Kargil, Syed Sajad coordinator SAMAGRA SHIKSHA, Zeeshan Ali Haider Nodal Officer Scholarships, Abdul Hameed women empowerment cell Kargil, were resource person in the program. Anwar Hussain OSD to CEC Kargil represented LAHDC Kargil in the program.
Ajed Ali S. Shah spoke about career guidance and entrepreneurship opportunities. He also interacted with students of different government schools, private schools, college students and university students in last three days.
The day-long workshop was organized under the guidance and directions of Director School Education Ladakh, Dr Safdar Ali (IRS) and Chief Education Officer Mushtaq Ahmad and meant to explain career counselling and opportunities available for students.
The program was attended by students of GDC Kargil, Jafriya Academy of Modern Education, Suru Valley Public School, Government Boys Higher Secondary School Kargil and graduate students from University of Ladakh.
Syed Sajad Coordinator SAMAGRA SHIKSHA said the department is focussed on career counselling of students so that they excel in their respective fields.
He said post-Covid-19 it is very important to guide and counsel the students about the career opportunities. "We have started career guidance programs from district headquarters and we will organize these programs in all zones," he said.
Dr Javid Naqi Assistant Professor GDC Kargil briefed students about the Prime Minister Special Scholarships Scheme (PMSSS) and overseas educational opportunities at the national and international level, and schemes of the Ministry of Education Government of India.
The interactive program was followed by a question and answer session with the resource persons. Marzia Bano was the moderator of the program.