BVO Nubra distributes cattle feed in Labab and Largyab villages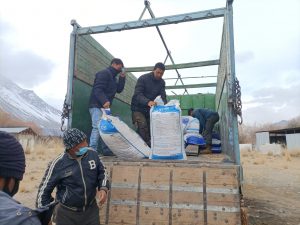 Leh, Feb 04: Block Veterinary Officer (BVO) Nubra, Dr Stanzen Zadon, today, distributed free of cost cattle feed to the livestock owners of hilly and snow bound areas of Nubra sub-division at Labab and Diskit.
A total of 47 quintals of cattle feed were distributed among the villages of Khema-Khungru, Digger, Tangyar in presence of the Naib Sarpanch and members of these villages at Labab village.
Similarly, 30 quintals of cattle feed were handed over to the Nambardars and members of Largyab-Pachathang villages for distribution at Diskit Yak Breeding Farm.