BVO Khaltse distributes cattle feed in Lingshed and Skumpata villages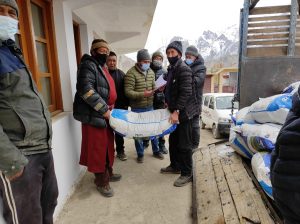 Leh, Feb,02: Block Veterinary Officer (BVO) Khaltse, Dr.Siraj ud Din, today, distributed cattle feed free of cost among the yak herders of Lingshed and Skumpata villages under the Special Development Package (SDP).
A total of 66 quintals of feed were distributed to Lingshed village and 6.75 quintals of feed were distributed to Skumpata village.
Nambardar, Lingshed, Tsering Dorjay; Panch, Lingshed Yogos, Stanzin Gyaldan and members of Lingshed village collected the feeds from the BVO Khaltse.
It was informed that the remaining villages will be covered in the second load.