Block Administration intensifies market checking in Khaltsi town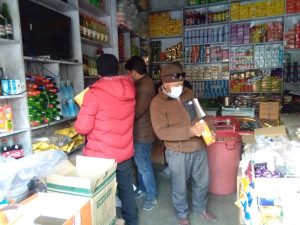 Leh, Dec 09: On the directions of the Sub-Divisional Magistrate (SDM) Khaltsi, Suhail Ahmed, a market checking group of the Khaltsi block conducted a surprise checking in Khaltsi town on 8th December.
The market checking group comprised of Naib Tehsildar Khaltsi, Mohammad Yousuf; Tehsil Supply Officer(TSO), Food Civil Supplies and Consumer Affairs (FCS&CA), Khaltsi Tsering Angdus; Incharge Police Post Khaltsi, Skarma Angchuk and Storekeeper, Khaltsi, Phuntsog Namgyal.
The team thoroughly inspected the market, including hotels/restaurants and the rates charged and other set standards. The shopkeepers and traders were urged to abstain from selling expired items and to prominently display the rate lists at their establishments and maintain proper cleanliness and hygiene. A total of Rs 9700 was collected as fine from the defaulters.
The Administration has appealed to all traders to avoid black marketing or hoarding and warned of stern action against the violators under rules.