Barchay Colony inaugurated in Kargil Former CEC, BDC Chairperson assure all possible assistance for basic amenities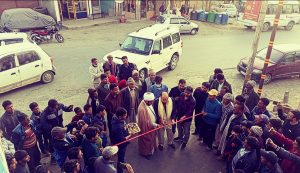 KARGIL, MAY 04, 2022: Former Chairman and Chief Executive Councillor, LAHDC, Kargil and Councillor Yurbaltak Kacho Ahmad Ali Khan in presence of BDC Chairperson Sodh Zakir Hussain today inaugurated the newly established Barchay Colony near TV Station area in Kargil.
Religious scholars, prominent citizens and residents of Barchay village were present on the occasion. Speaking at the event, Councillor Yurbaltak Kacho Ahmad Khan and BDC Chairperson Zakir Hussain congratulated the residents of Barchay.
The residents projected demand for the provision of funds for drinking water, drainage system and other related civic amenities for the newly established colony.
Councillor Yurbaltak and BDC Chairperson Sodh assured the residents all possible assistance including the provision of funds for the establishment of civic facilities in the new colony.