Azadi Ka Amrit Mahotsav: Labour Department Kargil, GDC Drass holds awareness programme for public, student representatives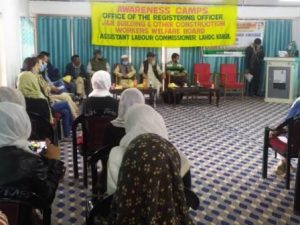 KARGIL, SEPTEMBER 04, 2021: As a part of the series of events held in connection with Azadi Ka Amrit Mahotsav, Labour Department Kargil in collaboration with Government Degree College (GDC) Drass organized an awareness program for public representatives and student representatives at Drass here today.
Assistant Labour Commissioner (ALC) Kargil Raziya Khatoon, Chairman BDC Drass Noor Muhammad, Principal GDC Drass Dr Amjad Ali Abassi, Labour Inspector Amina Khatoon, Sarpanchs, Panchs, teaching, non-teaching staff and students of GDC Drass and media persons were present on the occasion.
ALC Kargil Raziya Khatoon enlightened the participants about various schemes of the Department of Labour such as student scholarships, medical benefits and other assistance provided during the COVID-19 pandemic. She said that during the last 2 years the number of registered labourers in the district has increased manifold, adding she urged the public representatives and students to spread the information about various benefits of the schemes to the general population.
Labour Inspector Amina Khatoon informed the gathering about registration of shops and establishments, requirements for getting Form- C, necessary formalities and other related aspects.
BDC Chairperson Noor Muhammad in his address thanked Department of Labour and GDC Drass for organizing the event. He said that as Drass area remains cut off during winters especially due to avalanches in February and March, the Labour Department should keep into account such issues while declaration of last dates for submission of application forms.
Earlier, during the welcome speech Principal GDC Drass Dr Amjad Ali Abbasi while welcoming the guests and participants expressed gratitude to the Labour Department Kargil for organizing the event at GDC Drass.