Azadi Ka Amrit Mahotsav: LAACL Kargil, GMDC Zanskar organize Children'' on Spot Music, Painting Competition at Zanskar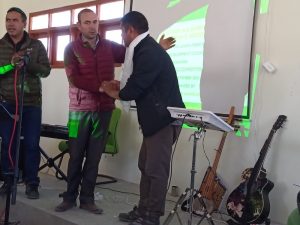 KARGIL, SEPTEMBER 13, 2021: As a part of the series of programmes held in connection with Azadi Ka Amrit Mahotsav-75 year of India's Independence, Ladakh Academy of Art, Culture and Languages (LAACL) Kargil in collaboration with Government Model Degree College (GMDC) Zanskar organized On Spot Music and Painting Competition among students of GMDC Zanskar, higher secondary schools high schools in the college campus here today.
Principal GMDC Zanskar Professor Nasir Shabani was the chief guest on the occasion while Principal Government Higher Secondary School Padum Rinchan Wangbo was the guest of honour on the occasion.
Speaking on the occasion, Principal GMDC Zanskar Nassir Shabani while hailing the efforts of LAACL Kargil for having organized by the painting and music competitions among the college and school students said that this step has proved an ideal platform to the budding artists to showcase their hidden talents in the realm of music and painting arts.
In his address, Deputy Secretary LAACL Kargil Nazir Hussain said that the painting and music competitions have been organized with the twin objective to explore the hidden artistic talent of the younger generation besides to inculcate in them consciousness about the local folk music.
Around 30 students from GMDC Zanskar participated in the on-spot music competition while around 50 students participated in the on spot painting competition.
The jury members in case of the on spot competitions comprised of Sonam Dawa, Tundup Namgyal, Stanzin Dudul (Painting),
Tsering Zangpo, Lobzang Samdup and Tsewang Rigzin (Music) while musicians
Stanzin Phunsog, Muhammad Ilyas, Tsering Tundup, Stanzin Laktsok and Muhammad Abbas Skith rendered services as accompaniment to the children who participated in the on spot music competition.
Cultural Expert Tsewang Rigzin conducted the proceedings of the daylong competitions while Special Officer for Cultural Activities Kargil Muhammmad Ali Tak delivered the vote of thanks at the end.