Ayushman Bhav: Blood Centre DH Kargil organizes blood donation camp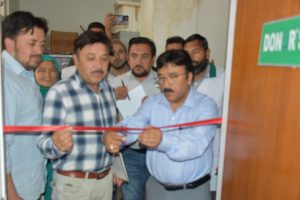 Kargil, Sep 23, 2023: A blood donation camp was organized by Blood Centre District Hospital Kargil in collaboration with Ladakh Blood Donor and Salute 72 Blood donors under Ayushman Bhav, a two-week program that started from Sep 17 to Oct 02 Oct, 2023.
The donation camp was held under the banner of of Seva Pakhawada which was inaugurated by Chief Medical Officer Kargil, Dr Manawar Hussain Wazir and Medical Superintendent District Hospital Kargil, Dr Kacho Liyaqat Ali Khan in presence of Incharge Block Centre and various volunteers of different organizations.
All the donors were welcomed with traditional Khataks. About 50 donors participated in the camp and ten pints of blood were donated by the various donors.
While addressing to volunteers at the camp the medical staff gave them awareness about the shortage of blood and advised them to donate blood to help save lives in case of emergencies. In the end, the Incharge Blood Centre thanked all the participants for making the program successful.