Ayushman Bharat Block Health Mela held at PHC Chuchot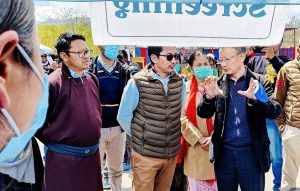 Leh, April 19: Ayushman Bharat Block Health Mela held at Primary Health Centre (PHC) Chuchot, upgraded as Ayushman Bharat Health and Wellness Centre (ABH&WC), under the aegis of Azadi ka Amrit Mahotsav celebration. Member of Parliament (MP) Ladakh, Jamyang Tsering Namgyal was the chief guest, and Executive Councillor Stanzin Chosphel was the guest of honour.
The two-day Health Mela at ABH&WC Chuchot includes health services, such as on spot generation of health ID also known as Ayushman Bharat Health Account, Golden card registration, teleconsultation centre, blood donation, cataract screening, non-communicable disease (NCD) screening and gynae OPD.
MP Ladakh, Jamyang Tsering Namgyal stressed that a healthy working population is fundamental to the growth of GDP. He highlighted that correct dietary habits and exercise/yoga is essential to maintain both physical and mental well-being. He also expressed grave concern about the increasing number of cancer patients in Ladakh. He added that the focus should be on finding the causes and reasons for such prevailing conditions.
MP Ladakh lauded the achievements accomplished in the health sector after the creation of the Union Territory of Ladakh, such as improved health facilities in the remote and far-flung areas with the availability of oxygen plants and modern medical equipment. He also expressed gratitude for the selfless efforts of the medical workers.
Guest of honour, EC Stanzin Chosphel lauded the Health Department for organising the Block Health Mela. He added that various health services, including health ID generation, Golden Card, cataract screening and non-communicable diseases (NCD) screening are available for the public. He specifically urged the public to generate their Health IDs which is essential to avail of health services.
EC Chosphel appreciated the contribution of ASHA workers in making health services accessible at the doorstep.
Earlier, Chief Medical Officer, Leh, Dr Nurzin Angmo shared that the aim of the 'Health Mela' is to spread awareness among the public about the works and programmes undertaken by the Health Department. She highlighted that the Ayushman Bharat Health and Wellness Centres are established to provide equitable and accessible health services to all along with preventive, rehabilitative and palliative services. She urged the public to cooperate with the health workers in their door-to-door campaigns and surveys.
Thiksey and Chuchot Councillors also addressed the gathering and urged the public to avail maximum benefit during the two-day Health Mela.
Block Medical Officer, Leh, Dr Jamila Bano presented the vote of thanks.
The medical staff performed a skit on immunisation of children under five years of age-group.
Director, Health Services, UT Ladakh; Chairperson, Block Development Council, Chuchot; Sarpanches, Nambardars and village representatives; Doctors and medical staff of ABH&WC Chuchot, ASHA workers and people from the nearby villages also participated in the event.