Awareness program on KCC held at Zanskar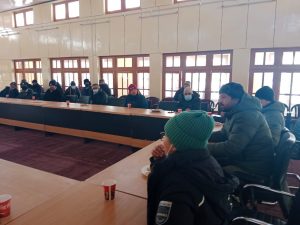 KARGIL, JANUARY 25, 2022: Department of Animal Husbandry today conducted an awareness program at Zanskar Sub Division to aware the public about sanctioning of Kisan Credit Card (KCC) facilities to all eligible farmers.
The awareness program was organized to aware the public especially farmers about the importance of the KCC and its benefits.
On the occasion, Dr Anwar Hussain, Live Stock Development Officer, Zanskar said that 135 KCC cases have been sanctioned by Jammu and Kashmir Bank.
He said four cases have been sanctioned by the newly established State Bank of India (SBI) out of 200 cases received by the department to date and the rest cases are in progress.
Manager J&K Bank, Padum, Stanzin Tsogyal, Manager State Bank of India, Padum, Zakir Hussian, Naib Tehsildar, Muhammad Ibrahim Khan, and other sub-divisional officers, Sarpanches, Panches, and farmers attended the awareness camp.