Awareness camp on TB and Women held in Khaltsi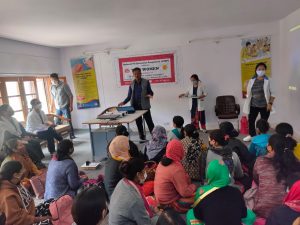 Leh, July 30: District Tuberculosis Officer (DTO), Dr Tashi Namgyal and his team in collaboration with Women's Alliance, Khaltsi, organised an awareness camp on TB and Women, in Khaltsi today. The awareness camp was organised as a part of Jan Andolan activity under National TB Elimination Programme (NTEP).
Dr Tashi Namgyal highlighted the TB disease and the importance of its elimination. He also spoke on the importance of regular antenatal screening of pregnant women. He added that the pregnant women should get themselves vaccinated against Covid-19 as they fall under the vulnerable category of people who are at greater risk of contracting the virus.
In-charge Block Medical Officer, CHC Khaltsi, Dr Padma also spoke on the importance of COVID-19 vaccine for pregnant women and urged them to get the vaccine at the health centre.
An antenatal screening session and a special Covid-19 vaccination drive for pregnant women was also held at CHC, Khaltsi.