Awareness and cleanliness drive conducted in Likir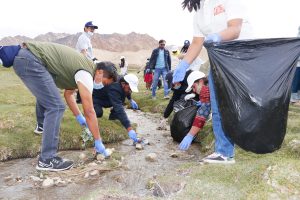 Leh, Aug 08: Deputy Commissioner, Leh, Shrikant Suse, today launched a cleanliness drive to clean the water sources at Tetsa Spang in Likir as a part of the ongoing 'Paani Maah' under Jal Jeevan Mission and sustainable cleanliness drive.
Saspol Councillor, Smanla Dorjee Nurboo; Tehsildar, Saspol, Namgyal Angmo; Nehru Yuva Kendra volunteers headed by Dy. Director NYK Leh, Tajammul Ara; Executive Engineer and Assistant Executive Engineer, PHE Department and Implementing Support Agency (ISA) participated in the cleanliness drive.
DC Leh directed concerned authorities to protect and clean water sources regularly in the village by involving the community.
Saspol Councillor, Smanla Dorje Nurboo, apprised DC Leh of the demands of the villagers, including strengthening the sub-divisional offices, appointing a regular Block Development Officer (BDO) and operating a bank branch.
DC Leh assured to take all the necessary steps to fulfil their demands at the earliest. He appreciated the villagers and officers of the PHE division for the visible work progress under the Jal Jeevan Mission in the subdivision. He directed the concerned officials to maintain the pace and quality of the work through regular monitoring.
An awareness drive under JJM was also conducted on the occasion by the Implementation Support Agency in which the importance of community participation for the success of JJM was explained.