Apricot Blossom Festival held at Sanjak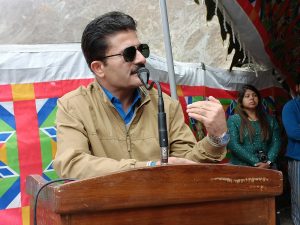 KARGIL, APRIL 16, 2022: As a part of a series of events under the banner of 2nd Apricot Blossom Festival (Chuli Mendoq), the Department of Tourism Kargil today organized a colorful program at Sanjak Chiktan.
Sub Divisional Magistrate (SDM) Shakar-Chiktan, Muhammad Shareef Kakpori, Assistant Director Tourism Aga Syed Toha, Block Veterinary Officer Dr Anwar besides a number of national and international tourists, vloggers, village community members, Sarpanchs, folk artists and villagers were present on the occasion.
Speaking on the occasion, the SDM congratulated the Tourism Department for organizing the program at the onset of summer and expressed hope that the event will be vital to enhance the tourism sector in the block and district in general.
He said that Sanjak has a vital role in the cultural history of the subdivision and besides it is also called as the fruit bowl of Chiktan area.
The SDM suggested vloggers and tourists to explore different places of Chiktan that are an important part of the socio-cultural history of the region and other scenic places.
He asserted that since the dawn of UT, developmental activities in the subdivision are going smoothly and further efforts are being undertaken.
On the occasion, AD Tourism, Aga Syed Taha said the aim of the festival is to promote the tourism season and make Kargil an all-weather tourist destination.
Aga expressed hope that the inflow of tourists along with the employment generation in the tourism sector will have a massive jump in coming years which will further push the economy.
On the occasion, RANTHAK Theatre group presented a play while Taqi Khan Nayab presented poetry on apricot blossoms besides villagers presented religious poetry in the form of Naat and Qasida.
Apricot Blossom Festival is being held across the Union Territory of Ladakh from April 13 to April 22 during which visitors can witness the mesmerizing blossoming of apricot trees and display of its products.
The last event in Kargil district will be held at Karkitchoo on April 19. The festival is all set to be a visual treat for travelers, as beautiful Apricot flower blossoms are going to mesmerize nature lovers during this time.