Apricot Blossom Festival begins in Kargil, colorful program held at Garkone village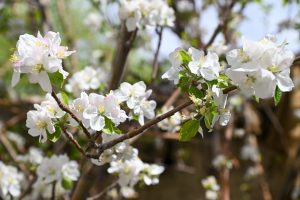 KARGIL, APRIL 14, 2022: As a part of a series of events under the banner of 2nd Apricot Blossom Festival (Chuli Mendoq), the Department of Tourism Kargil today organized a colorful program at Garkone village.
Additional Deputy Commissioner Kargil, Ghulam Mohi-ud-Din Wani, AD Tourism Kargil, Aga Syed Taha besides a number of national and international tourists, vloggers, village community members, Sarpanchs, folk artists and villagers were present on the occasion.
Speaking on the occasion, ADC Kargil congratulated the Tourism Department for organizing the program on the onset of summer after long harsh winter in the region.
Highlighting the importance of organizing Chuli Mindoq festival, ADC said Garkone and adjoining villages in the vicinity produce quality apricot in the district.
He said that the district administration is committed to extend all possible support in order to give further push for the export of apricots to national and international markets.
The ADC said that the successful export of apricot to Dubai last year is the result of persistent efforts of the administration which has benefitted the locals to a larger scale.
ADC Kargil also requested the tourists to promote Kargil as a tourist destination in their respective areas due to which more and more tourists will visit Kargil in coming years.
On the occasion, AD Tourism, Aga Syed Taha said the aim of the festival is to promote tourism season and make Kargil all-weather tourist destination.
He further said that along with unique landscapes of Ladakh, tourists during the festival also have interest to have a glimpse of local tradition, culture and food.
Explaining the high potential of Aryan belt in attracting tourists around the world, the AD Tourism said this festival will send out a positive message to rest of the world.
He hoped that the inflow of tourists along with the employment generation in the tourism sector will have a massive jump in coming years which will further push the economy.
Meanwhile, colorful cultural programs were presented by artists of Garkone, Darchiks, Sanachay, Bodhkharboo and students of Govt. Middle School Garkone which enthralled the audience.
At the event, stalls were also displayed by the Horticulture, Animal and Sheep Husbandry and Handloom departments.
Apricot Blossom Festival is being held across Union Territory of Ladakh from April 13 to April 22 during which visitors can witness the mesmerizing blossom of apricot trees and display of its products.
Kargil district will host the events in Sanjak on April 16 and Karkichu on April 19. The festival is all set to be a visual treat for travelers, as beautiful Apricot flower blossoms are going to mesmerize you during this time.