Anjuman Saheb Zaman Kargil hosts iftaar party at Sankoo for Ghulam Mohi-Ud-din Wani on his promotion as ADM, Kargil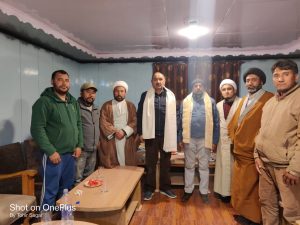 KARGIL, APRIL 04, 2022: Anjuman Saheb Zaman Kargil on Sunday hosted Iftar Party at Sankoo to Ghulam Mohi Ud din Wani on his promotion and posting as ADM, Kargil.
The officer has served for about six years as SDM Sankoo and served the people with utmost dedication and commitment to give his best to work for the public cause at large.
Speaking on the occasion, the religious scholars of Sahib Zaman Kargil extend gratitude to the outgoing officer for his best and exemplary service adding that the officer was dedicated and rendered his service diligently in the capacity of SDM, Sankoo.
Further, he appreciated the service rendered by the officer during his prolonged stint and wished him all the best for the new assignment.
Besides this, they cordially welcomed the new SDM, Muhammad Hanief for his new assignment.
On the occasion, the officer thanked all the religious scholars and the general public for extending their overwhelming support and cooperation during his tenure.