Animal Husbandry Dept Leh organises AI born calf show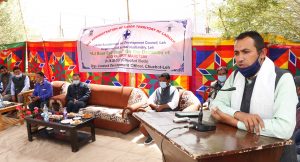 Leh, Aug 28: The Department of Animal Husbandry, Leh organised an Artificial Insemination (AI) Born Calf Show at the Livestock Development Office (LDO), Chuchot Yokma, as a part of the Azadi Ka Amrit Mahotsav celebration. Secretary, Animal Husbandry, UT Ladakh, Ravinder Kumar, was the chief guest for the event.
Secretary Ravinder Kumar appreciated the efforts of the Animal Husbandry Department. He highlighted the scope of income generation in the milk and dairy sector. He added that it could be an entrepreneurial opportunity for interested youths of Ladakh. Secretary Ravinder stated that the UT Administration and the concerned department would provide all the necessary support, such as loans and subsidies for establishing production units and procurement of machinery.
Secretary Ravinder Kumar also stressed the need for preserving and protecting the indigenous breed of cattle and artificially inseminated crossbreed for commercial purposes.
Earlier, Chuchot Councillor, Mirza Hussain, requested the concerned officials to conduct awareness programmes on artificial insemination and various schemes and initiatives so that the farmers and breeders could avail the benefits.
Chief Animal Husbandry Officer (CAHO), Leh, Dr Mohammad Iqbal, briefed about the different schemes and upcoming projects/ initiatives of the Animal Husbandry Department. He highlighted the milk pasteurisation plant under process and expressed hope to make it operational before year-end. He shared that the pasteurisation plant would be beneficial for milk-producing farmers.
CAHO Dr Iqbal also shared about the formation of the first milk federation of UT Ladakh soon that would enable UT to avail funds from the National Dairy Development Board (NDDB).
Livestock Development Officer, Leh, Dr Shakeel Ahmed informed the guests about the event organised to commemorate 75 years of India's Independence. He added that 19 Artificial Insemination Centres, including Extension Centre and First Aid Centre, exist under the LDO jurisdiction. Highlighting the success of the AI programme, he shared that around 1700 AI was conducted in Chuchot block in the pre-Covid-19 pandemic period, whereas around 340+ AI have been done to date in the current financial year, of which 171+ AI calves were born in Chuchot Block itself.
LDO Dr Shakeel apprised Secretary Ravinder of the successful stray bull castration drive conducted by the Animal Husbandry Department in 2018-19 with the support of the local population. He shared that this drive gave a boost to the AI programme in the region. He also added that peoples' acceptance of artificial insemination has increased over the years.
The progressive breeders of AI calves were distributed feed and mineral mixture. An open discussion regarding artificial insemination was also conducted during the event.
Chuchot Councillor; CAHO, Leh; LDO, Leh; sarpanches, panches and nambarders of the Chuchot Block, villager and progressive breeders and doctors and staffs of the concerned department participated in the event.