Agriculture Department Zanskar organizes training program for farmers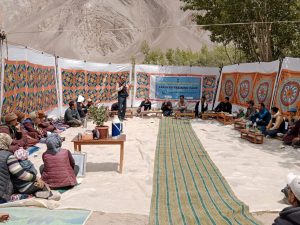 KARGIL, JUNE 21, 2022: Executive Councilor for Tourism, RD and Zanskar Affairs, LAHDC, Kargil Punchok Tashi on Monday attended a training program for farmers at Shelingskit village organized by Agricultural Department Zanskar.
SDM Zanskar Sonam Dorjay, Dr F.A Shah Khan Program Coordinator of KVK Zanskar, Sub Divisional Agriculture Officer Tsering Nurboo, Block Development Officer, Tsewang Rigzin, Faksang Lawang Sarpanch Stongday, Panches and farmers attended the training.
During the training program, agriculture experts highlighted the role of new technology of irrigation system in drought situations.
A team from Lahoul headed by Rigzin Samphel Hyerpa spoke in detail about the solution of profitable irrigation, in villages facing water shortage, with sprinkle technology in Lahoul.
Representatives of Harvel Azud India Pvt. Ltd. also demonstrated on the sprinkling water system and rain gun system in the village.
The team from Lahoul (HP) and farmers of Shelingskit thanked the EC, SDM and Agriculture Department for facilitating the farmers training program.
Demonstration was also made at Shella village and the EC assured that this new technology would be made available with the intervention of LAHDC Kargil and UT Administration in the subdivision in near future.